Great Holiday Gift Idea!
Please Call 
1-800-656-7598
between 9 a.m. and 4 p.m. Pacific Time (Monday-Friday)
All new subscription orders received by October 15, 2017 will start with the January/February 2018 issue.
This Holiday promotion expires February 2, 2018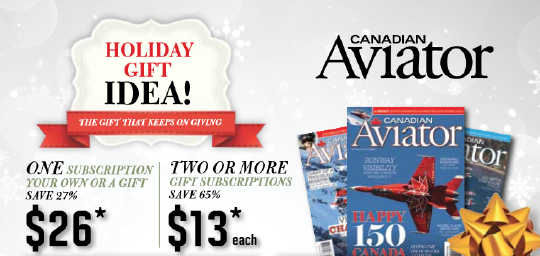 *Renewed subscription will start upon the expiration of the current subscription.
For faster service please call 1-800-656-7598 between 9 a.m. and 4 p.m. Pacific (Monday – Friday)
or
Print the Gift Form  and Mail it To:
Canadian Aviator Magazine
802 – 1166 Alberni Street
Vancouver, B.C.
V6E,3Z3
Click Here to Print the Gift Form