Air Canada is considering buying Bombardier CSeries aircraft to replace its aging fleet of short-haul planes.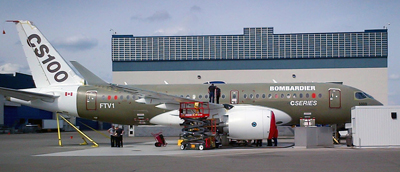 During a ribbon cutting at Air Canada's new operations centre in Brampton, Ont. Tuesday, Air Canada CEO Calin Rovinescu  said the airline will decide by the end of the year what platform to use for its regional service, which is coming under competitive assault all over the countries.
"Of course it hasn't flown yet, but we like the C Series based on what we've seen so far on paper," Rovinescu told reporters. There could also be some strategic advantages to the CSeries buy.
Porter Airlines is lobbying intensely to get permission from Toronto civic politicians to use CSeries aircraft at its main hub of Billy Bishop Airport on Toronto Island. Jets are currently banned at the airport for noise and environmental concerns but Porter is arguing that the new Bombardier jet is as quiet or more so than the turboprops now streaming in and out of the field.
The CSeries would give Porter virtually transcontinental range from the downtown airport, a competitive advantage Air Canada could not ignore.
Meanwhile, there is no firm date for the first flight of the CSeries test article but Bombardier officials have said the entry into service by the new airliner has been pushed back to early 2015.