Scroll Down to see all of this week's updates
Discovery Air Does ISR Mods For Baron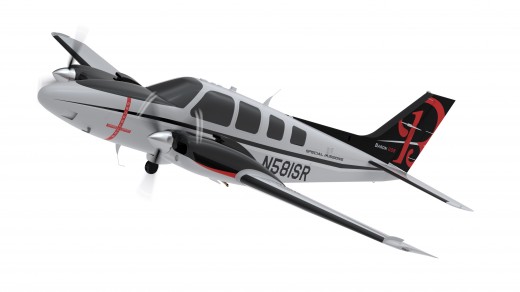 Discovery Air Technical Services did the modifications on Beech's demonstrator ISR Baron.
Discovery Air Technical Services(DATS) has delivered a demonstrator model of a new intelligence, surveillance and reconnaissance version of the venerable Beechcraft G58 Baron.
DATS did all the modification work to install the sophisticated gear that turns the comfortable six-place twin into a formidable aerial surveillance platform.
"The G58 ISR Demonstrator incorporates a complete mission suite that includes an electro optical /infrared sensor, mission communications suite, data management with moving map, SATCOM, datalink, GPS, mission operator console with multiple displays and cockpit display," DATS said in a news
The Toronto-based division of the company finished its work in March and the aircraft is now at Beechcraft's Wichita facility for painting and other preparations.
The aircraft will embark on a 40-stop world tour to try and interest military and paramilitary organizations in the aircraft, which is being billed as a faster, less expensive and more versatile ISR aircraft than helicopters that are often used in similar roles.
Beech sells a lot of its turboprop King Air 350s in a similar role but the Baron is significantly less expensive to acquire and to operate.
The new airplane is actually the second ISR platform modified by DATS for Beech. At last year's Paris Air, the first aircraft was delivered to a special enforcement unit of the Puerto Rico Police Department.
Beechcraft released a video on the new Baron ISR project using the earlier aircraft.
Discovery Air Technical Services/Beechcraft G58 ISR
 Drone Video Stirs Controversy

An unidentified person who goes by the YouTube name of Quadrotor Dragonfly is stirring some angry controversy after a clearly illegal and potentially dangerous drone flight resulted in a bird's eye view of a 737 on final to Vancouver International Airport.
The camera-equipped drone appears to be shooting the video from at least 500 feet AGL and within about a kilometre from the centreline. Quadrotor Dragonfly routinely flies his drone at these sorts of altitudes in Vancouver and several cities in Asia according to his YouTube channel but it was the proximity to the airport that caught the attention of the Vancouver Sun (limited free views) and Transport Canada.
TC spokesman Rod Nelson told the Sun his department is "very concerned about the operations of this UAV and we have been working with the RCMP to determine the operator's identity."
The feds might be the least of Quadrotor Dragonfly's problems if someone in the RC model community finds him first.
RC flyers are getting increasingly impatient with rogue UAV operators causing trouble like this and potentially threatening their hobby.
"This is a totally unacceptable use of such equipment, something we're trying to prevent," Steve Hughes, president of the Model Aircraft Association of Canada told the Sun. "It's pilots like these who can give the hobby a black eye. YouTube is going to be the death of us."
Transport Canada will issue special permits for drone flights but would never authorize this kind of use. Anyone with information on the identity of this UAV pilot is asked to call TC at 1-877-992-6853.
Feds Looking For Quick Helo Fix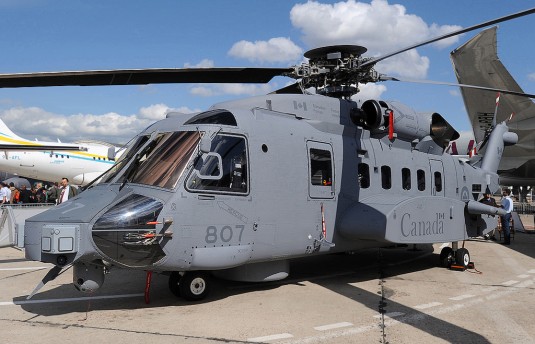 After 20 years of attempting, by various means, to replace Canada's Sea King helicopters, the federal government has embarked on a kind of speed date with those who might provide one.
The Canadian Press is reporting that senior representatives of the Department of National Defence and Public Works Canada gathered representatives from three helicopter companies and gave them three weeks to decide if they have an off-the-shelf solution to a much less rigorous set of requirements for an offshore helicopter.
Oddly enough, the meeting included Sikorsky, which has spent 10 years trying to provide the just-right version of its S-92 platform, which Canada will call the CH-148 Cyclone. That hasn't gone well. An S-92 operated by Cougar Helicopters ditched in the Atlantic off Newfoundland due to a transmission failure from a loss of oil. After that, the federal insisted the aircraft it receives have a 30-minute "run-dry" capability.
So far, Sikorsky has delivered four Cyclones as a sort of test and they're being evaluated and that's not going well. Apparently the radar upsets other systems on the highly digital aircraft.
So, that brought the meeting last week in which representatives of Sikorsky, Agusta Westland, and NH Helicopters, representing Eurocopter, were handed a short list of basic requirements for a helicopter Canada desperately needs.
Sikorsky thinks it will still win but the government has made it clear it's not wedded to the Cyclone contract which first came to light 20 years ago. In fact, the government has even asked Sikorsky if the MH-60 helicopter used by the U.S. Navy might do the job rather than the S-92.
 Fighters To Poland A Major Operation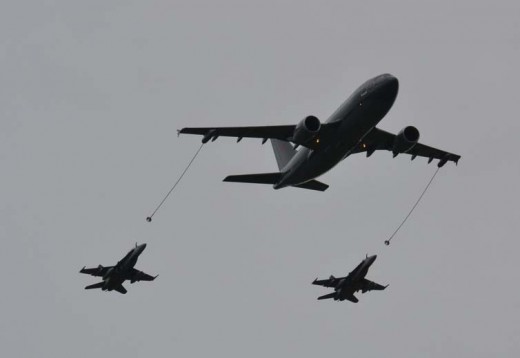 Last week the federal government announced that Canada will send six CF-18 fighters to Poland in response to escalating tensions in the Ukraine.
The aircraft will be part of a NATO operation and will patrol the borders of the Baltic countries of Estonia, Latvia and Lithuania to beef up their security in the uncertain situation.
But while sending half a dozen aircraft to the region may seem like a relatively token gesture, it will actually require a significant effort on the part of the RCAF with a lot of behind-the-scenes work that doesn't get much attention.
Getting there is just a small part of the operation but it's not as simple as closing the canopy and setting the GPS. CF-18s have a ferry range of about 1,200 miles while carrying ordnance and since they can't land to refuel while loaded with bombs and missiles, they have to go non-stop.
That means in-flight refueling and the most likely scenario is a seven-ship formation with one of the RCAF's Polaris tanker/transports. The converted A310 airliners cruise at about the same speed as the Hornets and can carry enough fuel to get them all across the pond non-stop.
But things can and often do go wrong on such operations and if one of the fighters had a problem that required the pilot to eject, the Polaris and remaining fighters would be helpless to render assistance.
Therefore, it's standard operating procedure to have the formation shadowed by a CP-140 carrying a life raft and other survival gear for the pilot in case he or she has to abandon the aircraft. The Aurora can also loiter in the area for many hours and vector rescue ships to the downed pilot.
Once in Poland the fighters and personnel will need a constant supply of spare parts and stores and, in the worst case, more ordnance.
 Calgary's New Runway Hosts Runners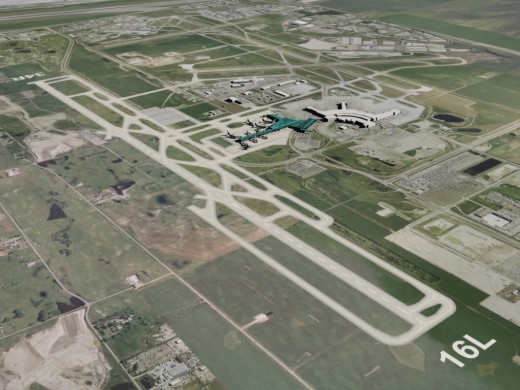 Anyone in the Calgary area will be able to have an up-close look at Canada's longest runway a couple of weeks before it officially opens with a unique public event.
To celebrate the June 28 operational opening of the new runway, a 14,000X200 stretch of Alberta prairie that will be able to accommodate the largest aircraft, the Calgary Airport Authority is holding Run and Roam the Runway on June 14-15.
On the Saturday, 1,400 participants (pre-registration required) will be able to run the runway after a warm-up with Hal and Joanne Johnson of BodyBreak fame. The runway is 4.2 km long so there's a standard 5k run and a two-length 8.4 km event.
On Sunday, 10,000 people (pre-registration also required) can attend a family-oriented festival with a vintage aircraft display, food trucks and a variety of attractions and entertainment.
"The weekend event will give the public a once-in-a-lifetime opportunity to literally run and roam on Canada's longest runway," said airport spokeswoman Jody Moseley.
The runway was first envisioned 40 years ago and has been under construction for three years as YYC's plan to attract major international traffic, including non-stop flights to China.
The $600 million runway is a metre thick and will be equipped with centreline lighting and be certified for CAT III (a) approaches.
It's just part of the international expansion of the airport. A new $1.5 billion international terminal is also being built.
 Avcorp Gets Technology Funding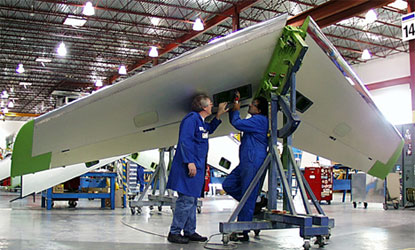 Delta, B.C.'s Avcorp has been awarded a $4.4 million federal repayable contribution to develop new metal bonding technologies for use in aircraft parts manufacturing.
The funding will allow the company to hire staff, including university students, to develop the new techniques to keep the company on the leading edge of aircraft manufacturing processes.
"This funding support from the Government of Canada will be instrumental in enabling Avcorp to achieve these capability and competitiveness enhancements in a timeframe that meets both our customers' requirements and the demands of the market," Avcorp said in a news release.
Avcorp builds components and structures for companies like Boeing and Cascade Aerospace. It also builds the folding wing sections of the carrier version of the F-35.