Scroll Down to see all of this week's updates
No-Frills Plan Boosts Union Bid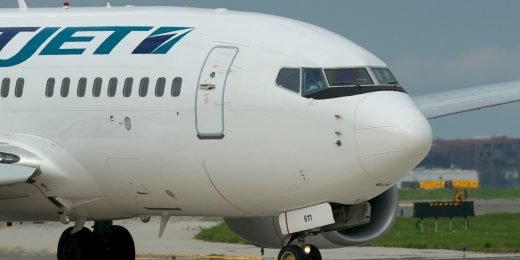 WestJet's announcement that it will be spinning off a no-frills carrier by the end of the year may mean the end of its admittedly tenuous status as a non-union company.
The airline has used profit sharing and a team concept to try to prevent certification and narrowly avoided it with both pilots and flight attendants in 2015.
But with news that a new bargain carrier is being created may have become a rallying point for employees to sign cards.
Pilots upped the ante by inviting the Airline Pilots Association (ALPA) to organize another union drive.
"WestJet pilots have demonstrated the pilot unity needed to certify a union on the property, and we believe WestJet pilots will be successful in their election for ALPA representation," ALPA President Capt. tim Canoll said in a statement. "The WestJet pilots work for a profitable and productive company, and with the vast resources available through ALPA representation, they will begin the process to legally negotiate the terms of their employment and establish a collective bargaining agreement under the Canada Labour Code that other union-represented aviation groups in Canada enjoy today."
Meanwhile, the pro-union WestJet Professional Flight Attendants Association issued a statement saying the no-frills prospect "shows how important it is for WestJet flight attendants to have an independent union negotiating job security, work rules and compensation."
Summit Air Expands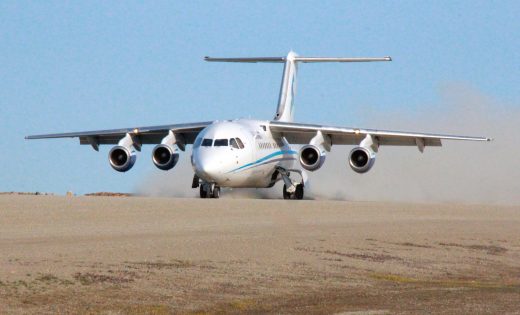 Summit Air has anounced it's building a new operating base at Calgary International Airport and added its largest aircraft to date to its fleet.
The company, which is a subsidiary of construction giant Ledcor, specializes in fly-in, fly-out services to mining operations in the North from Edmonton and Yellowknife.
"We have had a Calgary base in our plans for a number of years. Some of our clients have come to us recently and expressed a desire to move their workforce rotations out of Calgary which aligned well with our long-term strategy," said Paul McElligott, President of Summit Air and President & COO, Ledcor Resources and Transportation. "Adding Calgary as an operational base will facilitate further growth into the southern markets not currently serviced by Summit Air and will help connect our jet fleet flights to Canada's third largest airport, and its network of national and international flights."
The company has added an AVRO RJ-100 to its fleet of RJ-85s. The high-wing jets can operate from gravel runways common at mining operations and have self contained airstairs and APUs to allow operation into unserviced fields. The new aircraft seats 111 passengers and the 85s seat 90.
The Calgary base will open in the next few months.
Voyageur Completes Dash 8 Freighter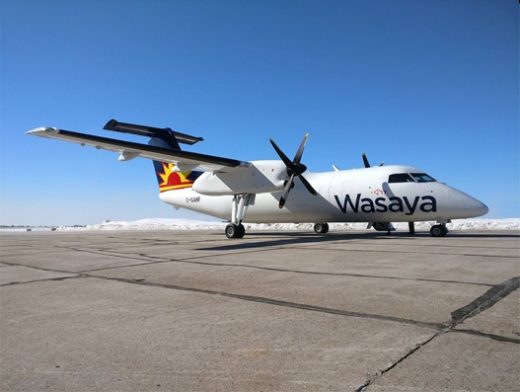 North Bay-based Voyageur Aviation has completed it first conversion of a Dash 8-100 for freight service.
The company unveiled the first completion last week at its North Bay hangar and announced Wasaya Airways as launch customer.
The high-wing turboprop will be used on unimproved runways throughout the North, replacing Hawker Siddeley HS 748s and Cessna 206s.
The new aircraft will carry up to 4,500 kilograms or 39 cubic metres of freight and includes an aft cargo door for easy loading.
The first aircraft will go to Wasaya shortly and a second will follow by this summer. Wasaya could take as many as 15 aircraft.
"It's a fantastic machine and we have great aspirations for it," said Wasaya CEO Michael Rodyniuk.
Voyageur is looking for new customers for the conversion, too. The company is a wholly owned subsidiary of Chorus Aviation, which also owns Jazz.
CSeries Approved For London City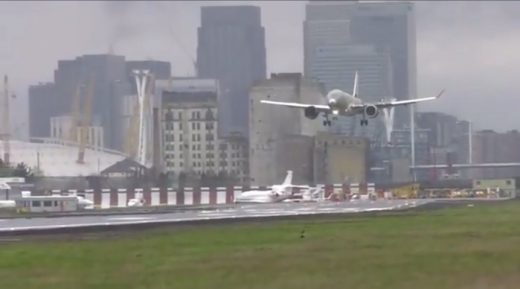 Transport Canada and the European Aviation Safety Agency have approved Bombardier CS100 airliner for service to London City Centre Airport.
And that means Bombardier can sell the aircraft to airlines that want to provide non-stop service from the convenient downtown London airport to eastern U.S. cities.
Most of the aircraft that use the downtown airport are regional flights with limited range.
The CSeries offers a realistic transatlantic option from the airport.
Central to the approval was certifying the CSeries for steep approaches of six degrees. Swiss International Airlines will start service to the airport later this year.
Although London was the prize in the certification, it will also clear the plane for use at airports in Lhasa Tibet and Haifa, Israel. Also mentioned  was Billy Bishop Airport in Toronto but the obstacles there are less technical and more political.