Scroll Down to see all of this week's updates
Canadian Aviator, COPA Join Forces

We at Canadian Aviator Publishing are very excited to announce a new partnership with the Canadian Owners and Pilot's Association (COPA).  This agreement transfers the responsibilities for COPA's magazine, Web site and newsletter to Canadian Aviator Publishing.  It leverages our company's publishing and technology expertise to streamline and modernize COPA's communications platforms for almost 16,000 members and dozens of advertisers.
Here is the official announcement released earlier today by Bernard Gervais, President and CEO of COPA.
COPA is excited to announce that as of today, we are partnering with Canadian Aviation Publishing (CAP) to enhance our communications platforms and to better serve our members.
Indeed, starting with the next July issue, COPA Flight will become a full colour magazine format (8 1/2 X 11') and sent to all COPA members. This outsourcing deal will also leverage CAP's experience of just-in-time aviation news delivery, improving our members' online experience on the website and complemented by a regular newsletter.
Bernard Gervais
Président COPA President & CEO
Delta Might Buy CSeries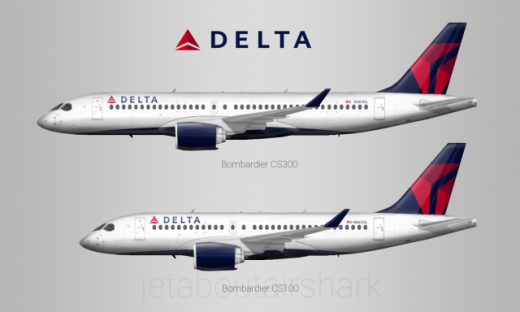 Bombardier likely has some "good news" for investors ahead of the company's annual general meeting and that could mean some major order announcements for its CSeries airliner.
The company moved up its earnings release by a full day to first thing Thursday morning. The earnings were to be released on Friday, the day of the AGM, but prematurely releasing a positive report will drive up stock prices and put investors in a better mood on Friday.
The most talked-about possibility is a potential sale to Delta Airlines. The company may announce Thursday that it's buying up to 185 CSeries, an order that would not only be important for Bombardier's bottom line but would be a major psychological boost for the program.
It would also put Airbus and Boeing on notice that CSeries is more than an amusing diversion in their continuing domination of the single-aisle market.
The less exciting prediction is that the good news will simply be Air Canada's confirmation that it's buying 45 CSeries. To date, that deal is just a letter of intent.
Most of the speculation centres on the Delta deal which would break down as 75 firm orders, 50 options and the assumption of 40 orders placed by Republic Airlines but derailed by the regional carrier's bankruptcy. Delta bailed out Republic, which is an important regional carrier for the bigger airline.
Canso Projects Progress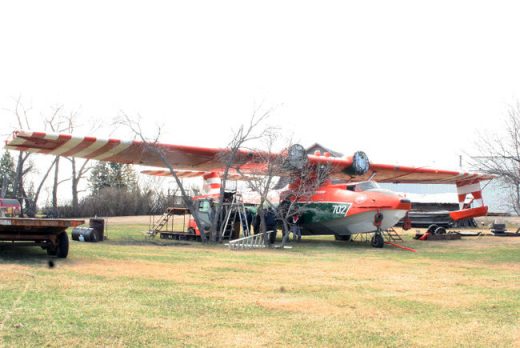 The Fairview Aircraft Restoration Society is nearing completion of the ex-Buffalo Airways Canso it has been rebuilding for the past few years.
And in Victoria, B.C., the Catalina Preservation Society has almost completed installation of blister windows in its big flying boat, which returned to the air last summer.
The Alberta group has re-attached the wings on the amphib and will soon mate engines it obtained in a swap with a Nova Scotia town to the virtually complete airframe.
The Fairview group salvaged its Canso from the shore of a lake in the Northwest Territories where it crashed years ago. The aircraft was moved overland and by barge to Fairview a few years ago.
Once airborne, the aircraft willl be used as a flying museum to explain its role as a rescue and patrol aircraft in the Second World War.
The Victoria aircraft was an RCAF search and rescue platform and went on to toil as a transport and air tanker aircraft for more than 40 years in civilian service. Addition of the blister windows will restore it to its original configuration.
Mars To Oshkosh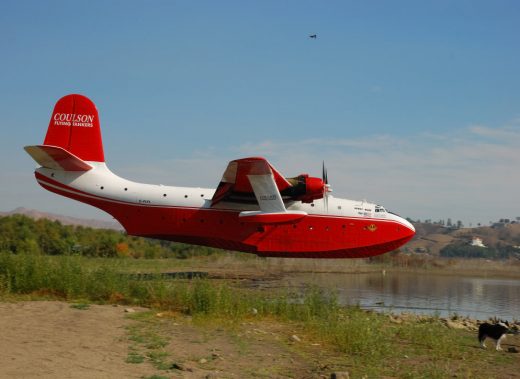 Coulson Flying Tankers' Hawaii Mars will make its first appearance at EAA AirVenture in July.
The huge flying boat will stage out of Lake Winnebago for flight demonstrations during the world's biggest airshow.
"This is the last flying Mars in the world and the largest warbird ever built," said Wayne Coulson, chief executive officer of Coulson Flying Tankers. "There isn't a better aviators' venue than EAA AirVenture, so it's an honor to be part of this world-class event. We're very excited to bring the Hawaii Mars to Oshkosh as we look for new opportunities and host potential clients, as well as showcase this magnificent airplane's capabilities."
Coulson's contract with the B.C. government for firefighting services was terminated in 2014 but the aircraft, which can scoop 7,200 gallons of water from body of water for dropping on a fire, was briefly pressed into service during the intense 2015 fire season.
Coulson has kept the aircraft busy by training flying boat pilots from China, which is building a fleet of large offshore amphibious aircraft.
The Hawaii Mars is the last of four of the aircraft still flying although a flyable aircraft is in storage at Coulson's Port Alberni, B.C. headquarters pending a deal to send it to U.S. Naval Aviation Museum in Pensacola, Florida.