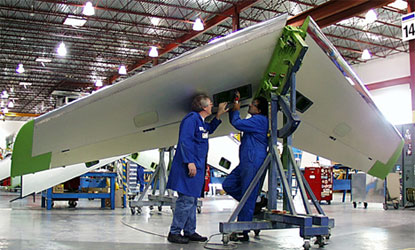 Delta, B.C.'s Avcorp has been awarded a $4.4 million federal repayable contribution to develop new metal bonding technologies for use in aircraft parts manufacturing.
The funding will allow the company to hire staff, including university students, to develop the new techniques to keep the company on the leading edge of aircraft manufacturing processes.
"This funding support from the Government of Canada will be instrumental in enabling Avcorp to achieve these capability and competitiveness enhancements in a timeframe that meets both our customers' requirements and the demands of the market," Avcorp said in a news release.
Avcorp builds components and structures for companies like Boeing and Cascade Aerospace. It also builds the folding wing sections of the carrier version of the F-35.