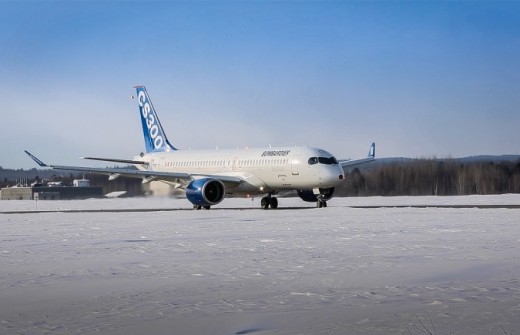 Bombardier says the flight test aircraft of largest CSeries model, the CS300, has been cleared for takeoff by Transport Canada and could have its first test hop as early as Friday (Feb. 27/15).
The company had hoped to fly on Thursday but called it off because of bad weather. It's forecast to be sunny but frigidly cold with morning temperatures close to -30.
The company got the flight permit last week and has since conducted high speed taxi tests in advance of actually nudging back on the fly-by-wire control stick.
The aircraft will take off from Mirabel Airport, near Montreal, where the final assembly centre for CSeries is located. Flight testing is done at Mirabel and at Bombardier's facilities in Wichita.
The CS300 will carry up to 160 passengers and that puts it in direct competition with Boeing 737 and Airbus A320 single-aisle airliners. It's also he most popular CSeries so far with about 180 orders.
"The CS300 aircraft represents two-thirds of our CSeries aircraft backlog and it offers the best seat-mile cost in its category, making it the most profitable solution for mid-sized markets with up to 150 passengers per flight, and ideal for a range of routes from short-haul to longer transcontinental markets," said Mike Arcamone, the president of Bombardier Commercial Aircraft.