Scroll Down to see all of this week's updates
Buffalo Airways Grounded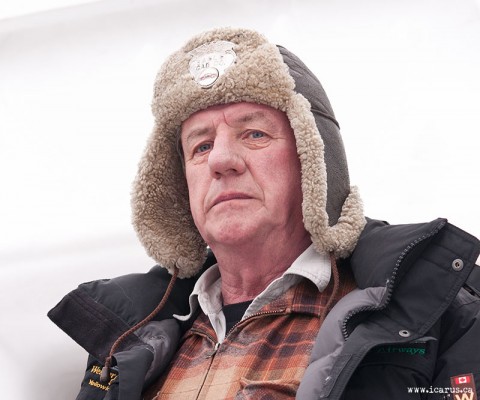 Transport Canada pulled the operating certificate of Yellowknife-based Buffalo Airways on Tuesday citing a "poor safety record" and  compliance issues.
"The department will not allow Buffalo Airways to resume its commercial air service until it proves it can keep its operations consistently compliant with aviation safety regulations," Transport Canada said in a news release.
Buffalo's use of Second World War-era transport aircraft and its tough talking CEO Joe McBryan was the basis of the reality television series Ice Pilots NWT and there are episodes in which McBryan's contempt for the regulators was clear.
In a report on a hard landing incident in 2013, the Transportation Safety Board noted the strained relations between the airline and TC.
"The organizational culture at Buffalo Airways was not supportive of a system that required the organization to take a proactive role in identifying hazards and reducing risks," the board said. "The company's response to deficiencies identified during [Transport Canada] surveillance activities demonstrated an adversarial relationship between the company and the regulator."
Transport Canada conducted four surveillance operations on the airline before bringing the hammer down. Just how long it will take for Buffalo to get back into business is unclear. It provides essential freight and scheduled air service to numerous isolated communities in the North.
Buffalo has had several mishaps in recent years, all of them due to mechanical issues but noone has been hurt. It was also fined for using too-large tanks for hauling fuel, tanks an airline spokesman said the company had used for 35 years.
Liberals Officially Kill Billy Bishop Jet Plan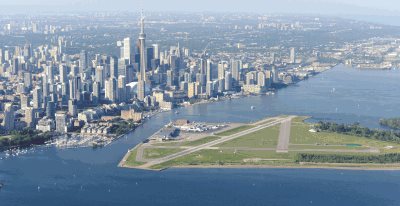 New Liberal Transport Minister Marc Garneau has confirmed his government will not reconsider a bid by Porter Airlines to fly jet aircraft out of Toronto's Billy Bishop Airport.
Garneau told reporters the matter is a "quality of life issue" for residents of Toronto but it's not just about jets.
"It's bigger than that," Garneau told the Hamilton Spectator. "It's an issue that is an election promise and its main focus is on the fact that Torontonians want to have a greater say in the development of their waterfront.
"Sometimes issues are quality of life issues and those are important."
Garneau killed the idea by refusing to open the tripartite agreement with the city of Toronto and the  Toronto Port Authority. That agreement includes a decades-old ban on jets, largely due to noise issues.
But proponents of the jet plan, which would have also required expansion of the airport, say the clause is outdated and modern jets are much quieter than those of 30 years ago.
The decision puts the brakes on Porter's plans to serve destinations throughout North America from the Toronto Island airport and it also halts Bombardier's only sale of its CSeries airliner in Canada. Porter's order of 12 aircraft was conditional on approval of the airport expansion and amendment of the agreement.
More Competition For CSeries

China's first indigenous regional jet airliner entered revenue service last week and its manufacturer names Bombardier as one of its competitors.
However, it's unlikely the somewhat updated version of a 1980s MD-80 will pose a serious challenge to the CSeries or any of the other modern platforms that will go into service in the next couple of years.
The Commercial Aircraft Corporation of China (COMAC) delivered its first ARJ21 to Chengdu Airlines last week. It seats 90 passengers. It has not been certified by the FAA.
The plane was built using tooling left over from an aborted bid by McDonnell Douglas to build MD-80s in China in the 1990s. It uses GE engines and a Rockwell Collins panel.
Still China trumpets the aircraft as its own design. It has 243 orders, a small number for a new design.
Meanwhile, rumours continue to circulate about a major announcement by Bombardier concerning a CSeries order. United Airlines is reportedly close to a decision on whether to buy CSeries or next generation Embraer E195 jets.
The order would be for 30 aircraft with an option for 30 more.
Canada Combining Military Flight Training Programs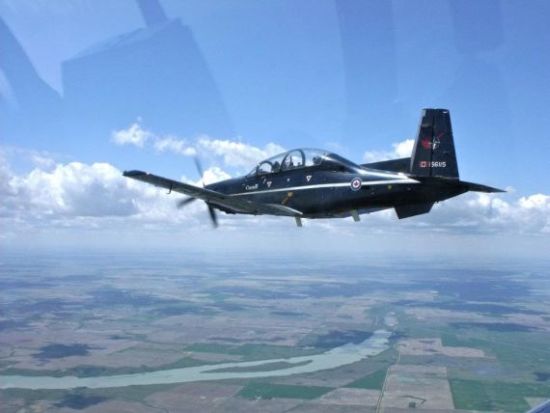 The federal government has asked aerospace companies for input on its Future Pilot Training project will eventually see all military pilot training brought under a single umbrella.
Canada's military pilots currently do their basic flight training at CFB Moose Jaw before heading for multi-engine or helicopter training in Southport, near Portage LaPrairie or staying behind in Moose Jaw for jet fighter training.
The Moose Jaw operation, also known as the NATO Flying Training in Canada Program, is now run by CAE after 10 years being run by Bombardier. The Portage operation is run by Allied Wings, which is owned by KF Aerospace.
The aerospace companies, including the current operators, will have until Feb. 2 to indicate interest in bidding for the Future Pilot Training program. By 2027 that contract will be worth about $4 billion.
Meanwhile, the RCAF wants to buy more simulators to consolidate its own training in Canada. Pilots training on C-177 Globemasters have to go to the U.S. while CC-150 pilots have to train in Germany. Cormorant helicopter pilots go to England.
The simulators will cost $544 million but will save the government about $2 billion over 20 years.