Scroll Down to see all of this week's updates
I'm A Canadian Aviator Winner Drawn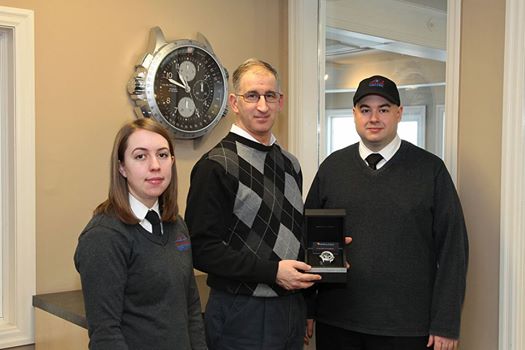 by Ken Lin, Social Media Editor
Newmarket, Ontario pilot Gaetan Boudreau arrived at Brampton Flying Club Dec. 16 anticipating a "safety briefing" with his flight instructor Madeline Koby.
Boudreau, who soloed earlier this year at Brampton Airport (CNC3) , was shocked to find that instead of the "safety briefing" he was led to believe, it was Hamilton Watch and Canadian Aviator Magazine on hand to present him with a Hamilton aviator watch, this is for his winning submission to the I'm a Canadian Aviator  promotion.
Congratulations to Gaetan, both for his accomplishments and also for winning a beautiful and functional Hamilton X-Patrol Khaki aviator watch to help him continue with his aviation adventures.
We should also congratulate Boudreau's daughter Julie who successfully soloed at Brampton Airport two days after her father did!
Finally, flight instructor Madeline Koby will be receiving a Sennheiser aviation noise cancelling headset for her effort in helping Gaetan achieving his dream of becoming a pilot.
Entries are now open for the 2015 competition and we're planning on more prizes. Even those who don't win the big prizes get a free one-year subscription to Canadian Aviator magazine just for submitting the information on their first solo. 
Jetlines Places MAX Order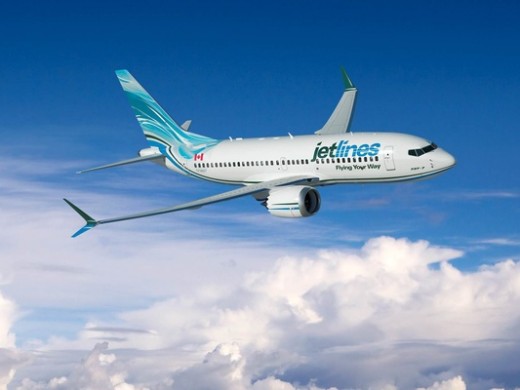 Start-up ultra budget airline Canada Jetlines has ordered five Boeing 737 MAX aircraft even though it has yet to fly a passenger.
The $500 million CAD order is part of the "long-term plan" for the fledgling carrier, which won't get the planes until 2021 at the earliest. For good measure the airline has taken an option on 16 more of the next generation 737s.
In the meantime, the airline plans to start flying in 2015 using leased 737-300, 700 and 800 series aircraft to fill what its CEO David Solloway says is "a huge void in the marketplace."
Canada Jetlines plans to follow the Ryanair and Spirit Airlines model by charging extra for anything beyond the seat and seatbelt. The airline has said the base fares will be up to 40 percent lower than comparable flights on WestJet and Air Canada.
"We're just very excited about getting into the market and start flying in the second quarter of 2015, bringing Canadians low-cost air fares," Solloway told Business in Vancouver.
The airline is merging with Inovent Capital and has launched a public offering to raise $50 million to get it into business. The carrier is expected to avoid expensive hub airports and serve so-called secondary airports like Hamilton, Saskatoon, Victoria and Kitchener-Waterloo.
 Ice Pilots Swan Song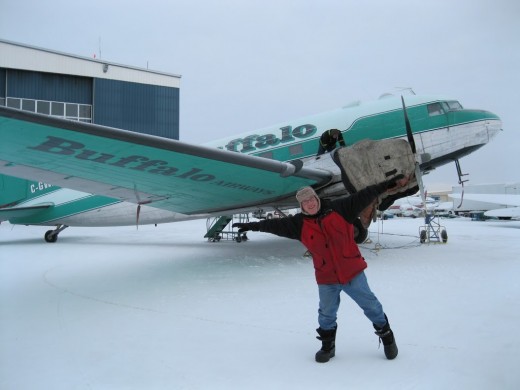 The popular reality TV show Ice Pilots NWT had its final episode Wednesday on History Television and without spoiling too much for those who PVR'd it, it did not end well for one of the principal characters.
The show, which started as an idea by the producers of Ice Road Truckers and blossomed under Buffalo Airways Manager Mikey McBryan's quirky entrepreneurialism, ran six seasons and attracted a large following for a cable reality series.
The producers say the decision to end the series was mutual between them, the McBryan family and the network and Mikey hit the interview circuit a few weeks ago promoting the final eight episodes.
"In television, the 'c' word, 'cancelled,' is just a horrible, horrible word and I hate it," McBryan told the Huffington Post. "But we all worked together and the show is going out on a high note. I like 'final season' vs. getting a press release saying the show is cancelled. It's cool we're doing it this way."
McBryan caught the celebrity bug and is now hoping to get more television work, perhaps with Shaw Media, which owns Ice Pilots.
"I'm hooked, I'm definitely hooked and I love it," he said.
Santa NORAD Pilots Picked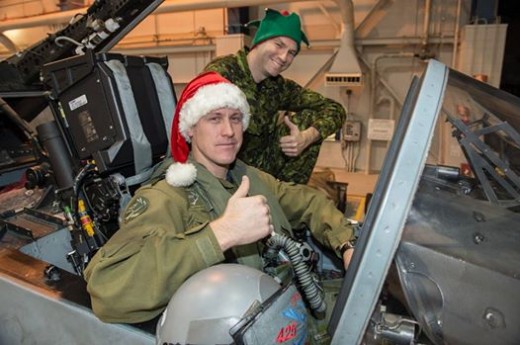 The Canadian region of the North American Aerospace Defense Command has chosen its escort pilots for Santa Claus and as always the job of keeping the high performance sleigh on course falls to 3 Wing in Bagotville and 4 Wing in Cold Lake.
Two CF-18 crews from each base will take turns with the assignment, which is an annual effort that is part of the uniquely historic tradition of NORAD tracking Santa on his flight.
Capt. Denis "Cheech" Beaulieu and Capt. Steven "Bunt" Nierlich are the Bagotville pilots who will work with crew chiefs MCpl. Daniel Boucher and MCpl. Marc-André David have been selected as the CF-18 Hornet crew chiefs to support the Bagotville pilots,
Maj. Yanick "Crank" Gregoire  and Capt. Thomas "Toast" McQueen are the 4 Wing pilots and their crew chiefs are  Cpl. Sébastien Morin and Cpl. Andrew Shields.
The NORAD connection began in 1955 when the so-called "red phone" in the NORAD facility under Cheyenne Mountain, CO started ringing off the hook with kids asking to speak with Santa Claus.
A typo in an ad for Sears Roebuck in the local paper inviting kids to "call Santa on his private phone" instead put them through to phone reserved for only the most dire national security matters.
After talking to kids through the evening, the officers on duty hatched the original plan that grew into the international phenomenon that now covers all media and social media genres.