Scroll Down to see all of this week's updates
Travel Ban Hurts Student Pilot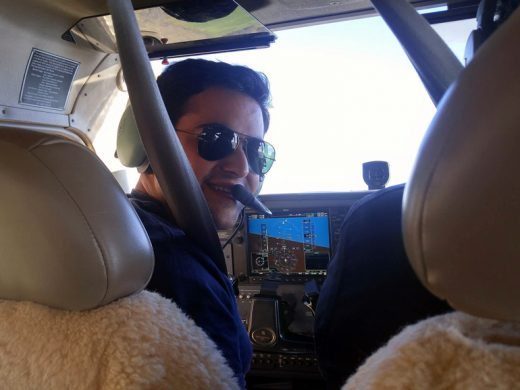 An Iranian student pilot training in Manitoba has been caught up in U.S. President Donald Trump's immigration ban.
Bardi Salimkhani was due to go on a long cross country flight through the U.S. with his aviation degree program classmates at Providence University College, a Christian post secondary school  in Otterburne, 50 km. south of Winnipeg.
It's a mandatory part of the school's curriculum but Salimkhani is an Iranian citizen. People from Iran and six other predominantly Muslim countries have been temporarily banned from entering the U.S. thanks to an executive order signed by Trump last week.
"It's definitely stressful being so close to graduation and that's the only requirement I have left," he told the Winnipeg Free Press. "It was really unexpected."
Salimkhani went to the U.S. consulate in Calgary in early January to get the necessary visas to make the trip but all of those approvals have been cancelled.
On the trip, the students fly to Texas and then return by going up the west coast of the U.S.
"What you learn from this trip is you fly through every American air space," he said from the school in Otterburne, 50 kilometres south of Winnipeg. "It's a great learning experience and I've waited four years for this opportunity," said Salimkhani.
School officials are now trying to figure out how to get Salimkhani the credits he needs without going on the trip but criticized the Trump regime for its action.
"As a Christian academic community in the evangelical tradition, we strive to exemplify the gospel of grace by upholding the dignity of, showing respect to and serving all people regardless of race, religion or culture," the release said.
Super Hornets By 2019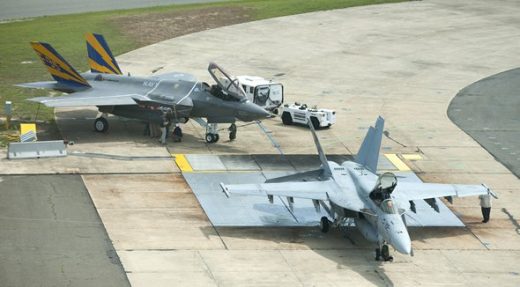 Canada will get its first of 18 Boeing F/A-18 Super Hornets in 2019 but the fourth generation fighters might not look like much of a bargain by that time according to a CBC report.
The Super Hornets are expected to cost as much as $120 million each, depending on how they're equipped according the network.
But now that U.S. President Donald Trump is claiming he's talked Lockheed Martin down to about $111 million for an F-35, the cost-benefit analysis looks a little more complicated.
The Liberal government cited cost as a major factor in its decision to buy Super Hornets as a "stopgap" to fill out its fighter squadrons. Military leaders have said they don't really need the jets as long as there's a firm plan to get permanent replacements soon.
With the much more modern and stealthy F-35 in the same price range as the Super Hornets, coupled with the guaranteed industrial offsets included with Canada's participation in the F-35 program, the 18 Super Hornets may actually be more expensive.
Defence Minister Harjit Sajjan said the final cost of the Super Hornets will be clearly explained. It's estimated that by the time ongoing maintenance costs are included the program will cost up to $7 billion over its life.
Air Georgian Pilots Join ALPA

Pilots who fly for Air Georgian, which operates regional service for Air Canada in Ontario and the West, have voted overwhelmingly to join the Airline Pilots Association (ALPA)
"We welcome our more than 230 colleagues at Air Georgian and look forward to the contributions they will bring to our union," said ALPA president, Capt. Tim Canoll. "Air Georgian pilots are committed to advancing their careers and, by gaining access to ALPA's professional resources, are now poised to achieve their goals. Through collaborative efforts, ALPA pilots across North America help to advance our profession and ensure that we maintain the safest air transport systems in the world."
More than 85 percent of the pilots voted 99 percent in favour of the move to ALPA. They previously had their own union.
ALPA represents pilots at most Canadian airlines and is making a determined effort to organize WestJet pilots.
Air Georgian Capt. Robert McCallum, who headed the organizing committee, said the goal is for the pilots and company to benefit from the shift.
"The pilots at Air Georgian play a crucial role in the success of our company, and we look forward to advancing that success with ALPA as we work with management to achieve our goals."
Correction
In last week's story about a helicopter crash near Timmins, Ontario, we said it took two months to find the wreckage. It actually took two days. We regret the error.