No one will ever know for sure if Marko Misic killed himself and three of his friends by intentionally spinning a Cessna 172 at near gross and close to its aft C of G limit but it's clear by the report issued late last week that TSB investigators think that's a distinct possibility.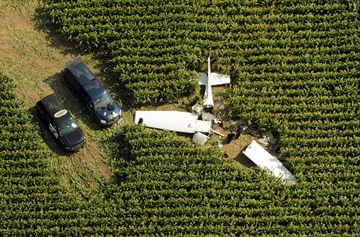 Misic was a freshly-minted commercial pilot with most of his time in Waterloo-Wellington Flight Training Centre's Cessna 172s when he, Mohammed Shahnawaz, 23, of Toronto, Wasay Rizwan, 27, of Toronto, and Victoria Margaret Luk, 19, of Mississauga took off on a sightseeing flight in a rented 172 on Aug. 24, 2012.
For almost two hours they flew at about 2,500 feet going to Niagara Falls and north to Toronto. As they approached the Kitchener Waterloo Airport, Misic headed to the practice area and climbed to 6,900 feet, announcing twice that he intended to do some upper air work.
Radar plotted his speed at about 50 knots at times and then showed the aircraft descending almost vertically at 8,200 feet per minute in a spin that was never recovered. The plane crashed in a cornfield and according to aerial photos taken by the Kitchener-Waterloo Record it impacted almost vertically with little damage to the corn outside of the footprint of the aircraft.
Investigator Don Enns told the Record that doing upper air work with all the seats occupied was at best "ill advised" as was the fact that the passengers exchanged seats during flight allowing each a turn in the right front position.  If the spin was intentional, it violated the POH, the CARS and the flight school's policies.
"It's conceivable that he did enter this spin intentionally," Enns said. "That's not something you do with four people on board the airplane, normally. It is going to be more difficult to recover with four people on the airplane."
An aft C of G flattens the spin and the blanking of the air flow by the horizontal stabilizer reduces rudder authority but Enns said the spin was still recoverable.
"There's no aerodynamic reason why he could not have recovered from that manoeuvre," he said.
The flight school has since said it will add cockpit voice recorders and GPS tracking devices to all its aircraft and has changed its training curriculum to emphasize all the rules pertaining to this tragedy.