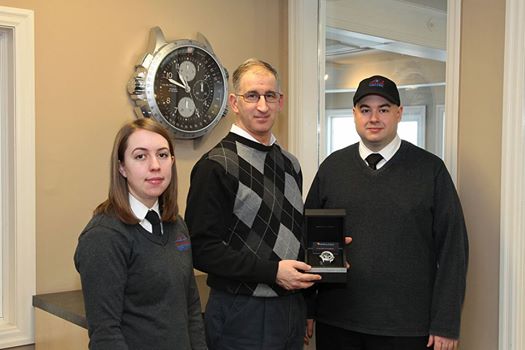 by Ken Lin, Social Media Editor
Newmarket, Ontario pilot Gaetan Boudreau arrived at Brampton Flying Club Dec. 16 anticipating a "safety briefing" with his flight instructor Madeline Koby.
Boudreau, who soloed earlier this year at Brampton Airport (CNC3) , was shocked to find that instead of the "safety briefing" he was led to believe, it was Hamilton Watch and Canadian Aviator Magazine on hand to present him with a Hamilton aviator watch, this is for his winning submission to the I'm a Canadian Aviator  promotion.
Congratulations to Gaetan, both for his accomplishments and also for winning a beautiful and functional Hamilton X-Patrol Khaki aviator watch to help him continue with his aviation adventures.
We should also congratulate Boudreau's daughter Julie who successfully soloed at Brampton Airport two days after her father did!
Finally, flight instructor Madeline Koby will be receiving a Sennheiser aviation noise cancelling headset for her effort in helping Gaetan achieving his dream of becoming a pilot.
Entries are now open for the 2015 competition and we're planning on more prizes. Even those who don't win the big prizes get a free one-year subscription to Canadian Aviator magazine just for submitting the information on their first solo.