Scroll Down to see all of this week's updates
Psutka Leaves COPA Early
Canadian Owners and Pilots Association President Kevin Psutka has found a new job and Wednesday was his last day at COPA.
Psutka spent 18 years as president and was only the second leader of the organization (Bill Peppler was the founding manager and retired in 1996 after 39 years.
He has been hired by the Airline Pilots Association as its Safety and Security Representative.
Psutka announced that he was leaving COPA in November and he said he intended to stay on for up to six months to aid the transition but when the ALPA job came up he decided to take it.
COPA Chairman Trekker Armstrong will take over as interim CEO and Director Jean Messier will be helping him out.
A search is on for the new president and an ad will be posted on the COPA Web site.
CAE Takes Over Military Pilot Training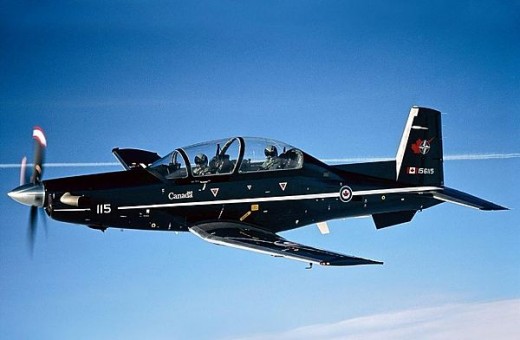 Montreal training and simulator company CAE announced Tuesday that it was buying Bombardier's military aviation training business for $19.8 million.
That business includes the flight training operations at CFB Moose Jaw and CFB Cold Lake. Bombardier currently trains new pilots for the RCAF and foreign government customers through the NATO Flying Training in Canada program.
CAE is involved in military training in other countries and CEO Marc Parent said he expects to grow the school.
"We plan to expand the NFTC program, and leverage our new capabilities into future integrated training systems programs worldwide," he said.
The facility does initial flight training for all RCAF and NFTC candidates on Harvard II turboprop trainers. Those who graduate from the Harvard to multi-engine and helicopter training go to Southport, Manitoba for their advanced training and those who will fly fighters stay in Moose Jaw for training on the Hawk jet trainer.
Parent said his company will also be training Canadian pilots on next generation fighter platforms. Canada has yet to make a decision on what fighter will replace the CF-18s currently in service.
 "As Canada transitions to its next-generation fighter program, we recognized the opportunity to expand CAE's footprint and capabilities to better support the RCAF with both comprehensive training and in-service support solutions," said CAE VP Mike Greenley.
The deal is subject to approval by both companies' boards of directors and is expected to close in 2015. All the Bombardier employees will keep their same jobs with CAE.
Record Attempt Balloon Headed To Canada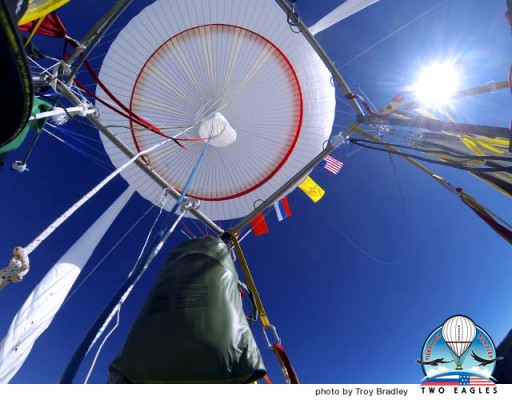 Two balloonists are most of the way across the Pacific Ocean and headed for landfall over southern British Columbia according their latest tracking prediction.
Leonid Tiukhtyaev, of Russia and Troy Bradley, of the U.S., left Japan last Saturday in Two Eagles, a helium-filled balloon. They're trying to be the first balloonists to cross the Pacific since 1981. They're also hoping to set a flight duration record of more than five days and 17 hours set in 1978.
The duo had hoped to hit the California coast and drift across the deserts of the southwestern U.S. but the prevailing winds are sending them toward Canada.
"The current trajectories suggest the balloon may cross the North American coast in southern Canada, possibly around Vancouver Island, sometime on Thursday or Friday," said the expedition's Web site. The duration record will be exceeded at 8:45 a.m. Friday.
"The pilots and support team are assessing all of the factors involved, including weather, landing conditions, and remaining resources (gas and sand ballast for maneuvering), to determine how far inland they might choose to fly."
Depending where exactly on the West Coast they hit land, the landing options might be quite limited because of the mountainous terrain.
Porter Sells Billy Bishop Terminal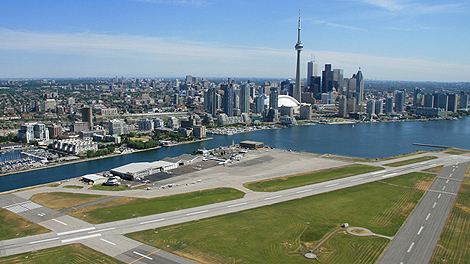 Porter Airlines has sold the passenger terminal it built at Billy Bishop Airport on Toronto Island to Nieuport Aviation owned by a group of Toronto investors led by Toronto Maple Leafs owner Larry Tanenbaum.
Porter CEO Robert Deluce said he'll use the money from the sale to fund expansion of the airline. Terms of the deal weren't disclosed but the terminal price tag was believed to be about $750 million.
Porter has grown rapidly and now serves 19 cities in the eastern U.S. and Canada from the Billy Bishop hub.
Deluce said the terminal is in good hands with the local owners.
"Nieuport Aviation is a seasoned airport operator that will deliver exceptional service at the terminal and help build on the existing overall superior travel experience for passengers," he said.
Deluce wants to re-introduce jet service to Billy Bishop as part of those expansion plans and the proposal is still before Toronto City Council. If approved, Porter would buy Bombardier CSeries airliners that would allow service to Vancouver and a lot more U.S. destinations.
 Nominations Open For Northern Lights
Nominations are now being taken for the Elsie McGill Northern Lights award honouring "Canadian women who have made a significant contribution to aviation or aerospace, and who continue to lay the groundwork for other women to enter or excel in these industries."
The nomination deadline is March 31 and can be made online at ww.northernlightsaward.ca.
Nominations are accepted in a range of categories from flight operations to government.