Scroll Down to see all of this week's updates
Rash of Threats Hit Airlines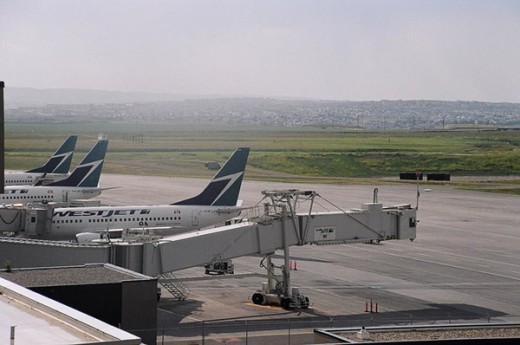 For the fifth time in less than a week, a Canadian airliner was the target of a bomb threat. And for the fourth time, the target was WestJet.
On Wednesday evening a WestJet flight from Vancouver to Toronto diverted to Calgary because of a bomb threat. There were only 30 passengers on the plane and they all left via portable stairs.
"Yes, we've been hit again," said WestJet spokesman Robert Palmer.
On Tuesday night a WestJet flight from Toronto to Saskatoon made it to its destination but was sent to an area of the ramp away from the terminal. Passengers disembarked on stairs.
The night before, six WestJet passengers were hurt when they had to use evacuation slides and over-wing exits to leave the aircraft. Some of the passengers had to jump about two metres to the ground from the wings and hurt their feet and legs.
Last Saturday, another WestJet flight from Edmonton to Halifax landed in Saskatoon when a bomb threat was phoned in. Last Thursday, a note was found in the washroom of an Air Canada aircraft at St. John's International Airport and the airport had to be closed.
The airlines aren't saying much about the incidents but all are under active investigation.
TSB Wants All Kids In Their Own Seats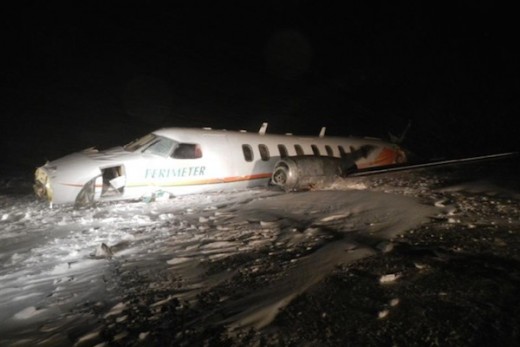 The Transportation Safety Board says it's time to end the practice of allowing children under two years of age to travel on their parents' lap on commercial aircraft.
The TSB has recommended to Transport Canada that infants and toddlers be properly restrained in their own seats after its investigation of a crash in Nunavut in 2012. All eight adults on the Perimeter Aviation charter flight survived but six-month-old Isaac Appaqaq died when he was torn loose from his mother's arms in the landing accident.
"Adults are not strong enough to adequately restrain an infant just by holding on," TSB Chairwoman Kathy Fox told a news conference on Monday.
"Research has proven it. It's time to do right by our children. They deserve the same level of safety."
Airlines haven't responded to the notion yet but Transport Minister Lisa Raitt told CBC Transport Canada will deal with the recommendation quickly. Under law it's required to respond within 90 days.
If adopted, the change would require the purchase of a seat for infants, which might cause a backlash from airlines and passengers.
The TSB found the cause of the crash to be crew error brought on by a late flight to an airport that had marginal weather by the time it arrived. After aborting the first landing, the crew tried a second time but landed beyond the runway and skidded 335 metres to a stop.
"At this point, the crew began feeling a growing pressure to land," said chief investigator Gayle Conners. "Stress, workload, frustration and fatigue combined to narrow their attention and they shifted away from well-practised procedures.
"By the time the captain decided to reject the landing, it was too late."
Canadian Pilot Third In U.S. Race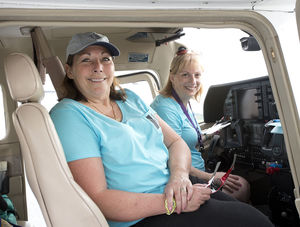 Robin Hadfield was co-pilot in the aircraft that placed third in the 39th annual Air Race Classic.
Hadfield flew in Lin Caywood's aircraft and the duo covered 2,530 miles in just two and a half days to claim third place.
Bad weather threatened the event but Hadfield and Caywood flew on when others rested and that helped them with their finish.
"We think we made some good decisions," Caywood told the Frederick, Maryland News-Post.
Hadfield told the newspaper it's all about being confident in your decision making.
"It's the type of thing where you really have to go with your knowledge," Hadfield said.  "Try not to second-guess yourself and be confident in your own decision-making."
She said she enjoyed the experience and will be recruiting Canadian pilots to join the race next year. She was the only Canadian in the race.
Hadfield Back in the Sabre Saddle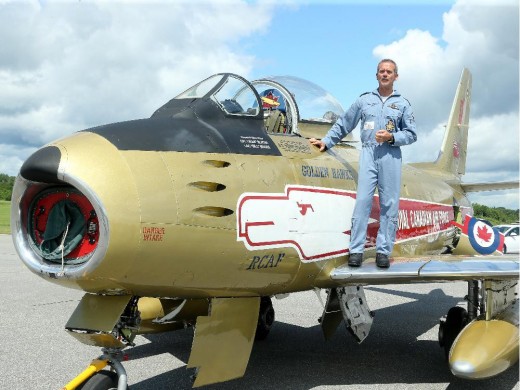 Retired astronaut Chris Hadfield is back in a place he loves.
The former RCAF pilot was scheduled to fly Vintage Wings' F-86 Sabre at the Wings Over Gatineau Air Show on Tuesday.
The Snowbirds and the CF-18 demo team were in town for a flight over Parliament Hill on Canada Day but that got scrubbed because of the awful weather.
Former Parliamentary Sergeant-at-Arms Kevin Vickers was scheduled to fly with the Snowbirds over the houses of government. Vickers shot and killed Michael Zehaf-Bibeau in chamber's main hallway after he stormed the building with a rifle.