Scroll Down to see all of this week's updates
Webster Finalists Announced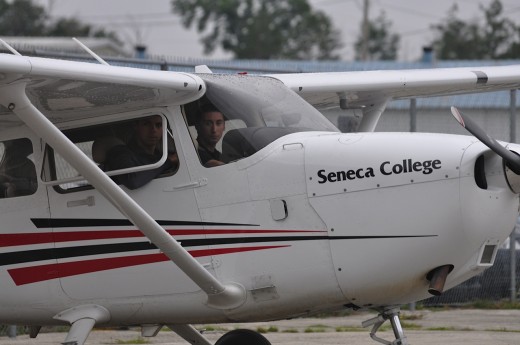 The Webster Trophy committee has chosen the nine finalists who will compete to be named Canada's top amateur pilot at a week of competition at Pacific Flying Club in Delta, B.C. from Aug. 18-22.
The finalists, who submitted their flight test scores for selection as regional winners will perform written and practical tests during the competition week. Chairman Wayne Foy said the scores on the tests submitted were impressive.
"The quality of entries received is noteworthy and a strong indicator of the standard of training being given by those Flight Training Units who participated," Foy said. "It is unfortunate that only nine can be selected from all who entered but from the tests submitted those who did not win should still be pleased with the high standard of training they received."
The finalists are: Simon Horlick, Pacific Flying Club representing B.C.; Matthew White, Sky Wings Aviation, Alberta; Duncan Starling, Millenium Aviation, Saskatchewan; Jamie Fehr, Manitoba, Mountain City Aviation; Mark Ehrenfellner, Western Ontario, Confederation College; Jack Bradshaw, Central Ontario, Brampton Flight College; Gabriel Kim, Eastern Ontario, Seneca College; Alexandre Laplante, Quebec, Lachute Aviation; Zhaoyang (David) Shi, Atlantic provinces, Moncton Flight College.
Meanwhile, last year's winner Sebastien Leduc has been hired as a first officer by Jazz and has been training since June 15.
Help From Mars?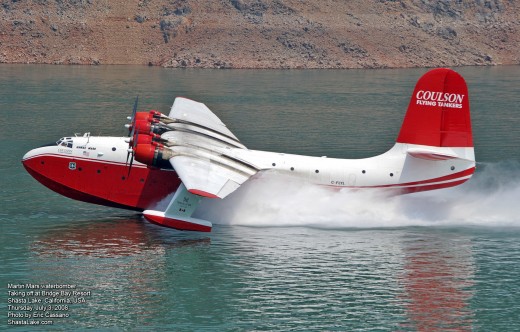 The turbulent existence of the last remaining Martin Mars waterbomber took another twist this week with news it might be pressed into service to help B.C. deal with a busy firefighting season.
It's been hot and dry in B.C. since May and up to 30 new fires are reported every day. There are now more than 200 burning.
Last year, the B.C. government ended its long-standing contract with the owners of the massive aircraft, saying it wanted more modern aircraft in a variety of sizes to give it flexibility in forest fire management.
Well, sometimes 27,000 litres of water is just what the fire boss ordered and the government has confirmed it's talking with Wayne Coulson about bringing the Mars back. The aircraft is airworthy and has been used to train Chinese pilots for some large flying boats that country is developing.
Forests Minister Steve Thomson said the aircraft will be used "strategically" if it comes back.
"There are lots of challenges with that resource," he said. "It's not the most cost effective and can only be used in very, very strategic situations."
Like when 27,000 litres of water in one drop will come in handy.
'Experienced' Pilot Hurt in Okanagan Crash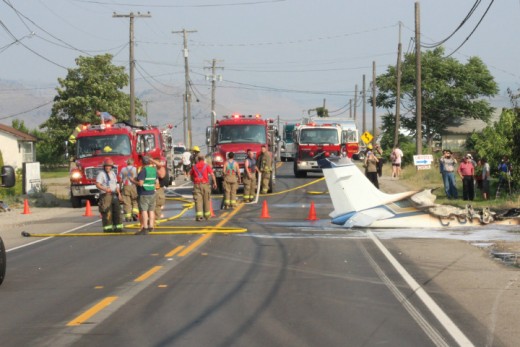 A 46-year-old Surrey, B.C. pilot has is in stable condition in the burn unit at Vancouver General Hospital after his Beech Bonanza went down on a highway just outside the south Okanagan community of Osoyoos on Tuesday.
Global News reported that Todd Lewendon was flying home to Boundary Bay from Oliver Municipal Airport when the aircraft lost power just after takeoff. It was his 46th birthday.
Witnesses said the aircraft hit transport truck and a utility pole before coming to rest on the side of the highway and burning.
Lewendon got out of the aircraft and was taken to Oliver Hospital before being taken by medevac to Vancouver.
He is well known at Boundary Bay Airport where he owns a number of hangars and operates a business. It's not known what prompted the off-airport landing but the TSB and Transport Canada are investigating.
Balloon Stunt Ends In Charges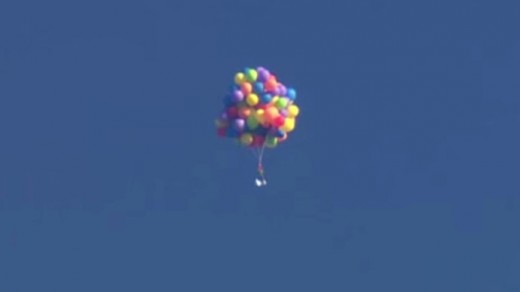 The young man who rode a lawn chair hauled by 120 helium party balloons to 8,000 feet over Calgary last Sunday evening said he never even looked into the legality of the stunt.
In fact, Daniel Boria told Newsweek Magazine in New York, he'd already tried to find a pilot willing to let him parachute from an aircraft for a landing at the Calgary Stampede but didn't have any luck.
So he and his friends came up with the balloon idea as a way of promoting his cleaning business.
"I believe that we need to eradicate the human behavior of fear, the human behavior of conformity," he told Newsweek. "When I first started my company, I said, let's try to be different."
The lawn chair shot into the sky with cheers from his helpers but the wind was blowing the wrong way and apparently took him toward Calgary International Airport because he told the CBC he watched as airliners took off and landed below him.
When the balloons started popping as he gained altitude, he decided to hit the silk.
He landed in the waiting arms of the Calgary police and was charged with mischief endangering life. Transport Canada will undoubtedly chip in some charges under the Aeronautics Act, too.
Despite the stern tone taken in the official news releases from the police, Boria said the arresting officers were laughing about the incident.
"Most of the cops were just really confused at first. Eventually, when they figured it out, almost everyone thought it was hilarious, except for those few," he said. "They were calling me Neil Armstrong when I got to the station."