Scroll Down to see all of this week's updates
Canada Heads To AirVenture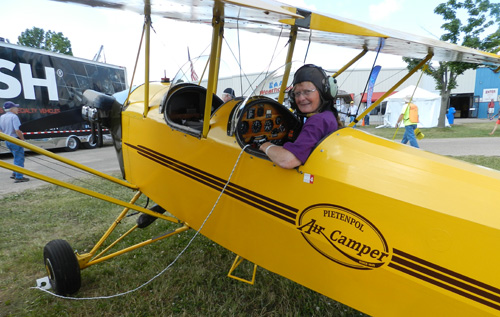 There is plenty of evidence of Canadian involvement at AirVenture 2014 in Oshkosh, WI this week with lots of C-registrations in the parking areas and maple leafs throughout the grounds.
Among the participants is Jill Oakes, of Winnipeg, who flew her Pietenpol Air Camper to Oshkosh.
"It took about 20 hours but we flew around a little bit, too," she said. The Pietenpol was among the first kit aircraft ever offered and hundreds were sold in the 1930s.
Its wood and fabric construction is light weight but durable and the aircraft is easy to fly.
Oakes' Pietenpol is on display at the EAA Canada booth, which is near Boeing Plaza. Beside it on the grass is C-FLUG, the Cessna 150 that was refurbished in cooperation with Ninety-Nines and Recreational Aircraft Association to offer a training and fun-flying platform for girls and women in the Winnipeg area who want to learn how to fly. There are now 12 females flying and maintaining the aircraft.
Canadian Dream Becomes AirVenture Reality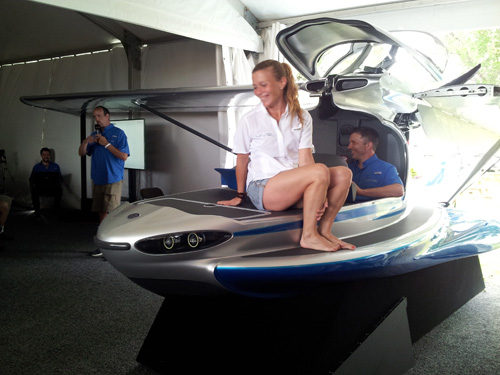 There's a Canadian connection to what has become one of the most talked-about aircraft introductions at AirVenture.
The inspiration behind the MVP LSA Amphibian is Darrell Lynds, a Winnipeg native who has lived in the U.S. for 20 years, making a fortune in software development.
You can take the Canadian out of Canada but the love of the outdoors and accessibility to the wide open spaces with fishing and camping have always been a priority for Lynds. While still in Canada, he built a SeaRey amphib and while he liked it well enough, he thought he could do better. He's now formed a company to build what he says is the ultimate outdoor recreation aircraft.
The MVP is designed to make the most of that wilderness downtime.
It's a Light Sport aircraft in the U.S., meaning it weighs less than 1460 pounds and can't go faster than 120 knots. Lynds said it will fly as well as or better than anything else in its class but it's when the pilot reaches his destination that its unique features come into play.
The windscreen and instrument panel fold up and back above the wing, allowing the cockpit area to be covered with lightweight deck material. That turns the plane into a fishing and swimming platform.
At night, a tent encloses the area for a comfortable sleeping area.
Lynds said the aircraft is expensive at $189,000 but he plans to have a company-run fractional sharing program that will make the aircraft accessible to average people and ensure good and proper maintenance.
McLeod Struggles in Poland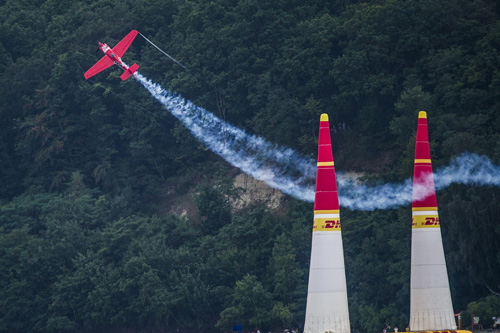 By Dan Gysbers
Pete McLeod Racing
Round 4 of the Red Bull Air Race World Championship made its inaugural stop in Gdynia, Poland.  From the edge of the Baltic Sea, rough conditions prevailed through the week. Many racers struggled to find their groove on a track that rewards pilots who can fly smooth yet aggressive lines; and Canada's Pete McLeod was no exception.
Strong winds, made flying difficult during training.   During McLeod's first qualifying run, a punishing vertical turn resulted in a disqualification when his G meter briefly spiked over 10G.   A new rule this season has reduced the max G allowed from 12 to 10G.   With his first qualifying run stopped, the pressure was on for a good second run.  McLeod made his one and only chance count, with a fast, flawless, but safe run, earning him a strong start position for Sunday's race.
With rain skirting the course, and strong winds swaying the pylons, McLeod and Nicolas Ivanoff went head to head for the third time this season.  The Frenchman ran an exceptional time winning his heat, but McLeod would not be sent packing.  The Canadian scored a time fast enough to earn him a wild card spot in the next round.
On his first lap of the Super 8, McLeod laid out a blistering time, and appeared on course to set a track record.  But, the vertical turn at the far end of the course would ruin his chances.   Once again, the G meter spiked, this time above 11 times his body weight.   "Last season this would have been a legal turn….My body can take it, my plane can take it….It's a sporting rule not a rule I like".
Knocked off, McLeod would finish eighth in the costal city of Gdynia, and slides down the season points standings to fifth behind Australia's Matt Hall. Hannes Arch pulled off another commanding win, with Nigel Lamb in second, and Matt Hall Rounding out the podium.
This is the second race in a row that ended with McLeod being disqualified.  But the youngest racer on the circuit is already thinking about the next event in Ascot UK Aug 16-17.  "The next race will be a different story, I am a guy who pushes to the limit. I am not out here for a Sunday drive, and when you run max power you are always close to the line."
Drone Airspace Set Aside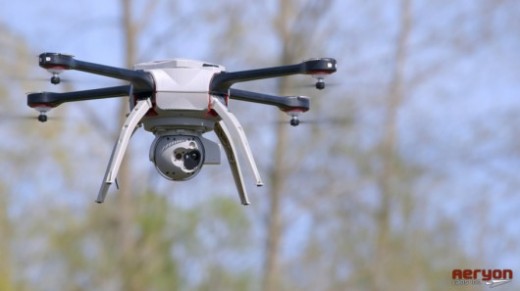 Canada now has a dedicated section of airspace where companies can fully test unmanned aerial systems (UAS).
The Canadian Centre for Unmanned Vehicle Systems (CCUVS) will manage a permanent area of restricted airspace in southeast Alberta for the operation of UAS.
"This airspace designation is the first of its kind in Canada and will be available for UAS training, research and development for civil and commercial purposes," the CCUVS said in a news release. "The airspace is particularly attractive for companies that wish to fly Beyond Visual Line of Sight (BVLOS), a capacity that opens up significant commercial opportunities. It is anticipated that flight operations could commence as early as the end of 2014.
The area covers more than 750 square nautical miles of Alberta prairie and it's a development the global UAS industry has been anxiously awaiting.
"This pioneering initiative will give Canadian and international UAS operators a unique location to safely train and develop UAS for BVLOS flights in Canada," said Roger Haessel, Chief Executive Officer, CCUVS.
 Canadian Airlines Tops in North America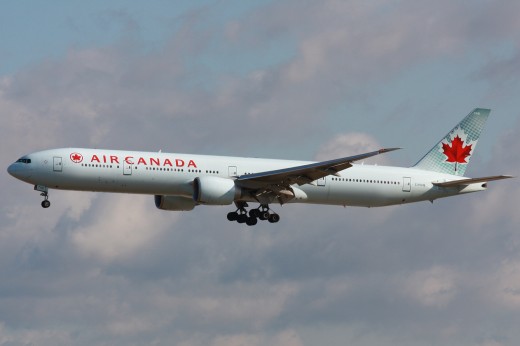 Canada's three biggest airlines have all earned top ratings in passenger rankings for North American airlines.
Air Canada was rated first among North American airlines with WestJet a close second. Porter Airlines was voted the top regional airline.
However, the best North American airline only rated 24th in the world. Asian airlines dominated the top standings and Europe was also well represented.
The story was widely reported but what many mainstream media sources missed was a category for the world's friendliest airlines.
Virgin Atlantic won the category but WestJet and Porter placed second and third.