Scroll Down to see all of this week's updates
Snowbirds Canada 150 Plane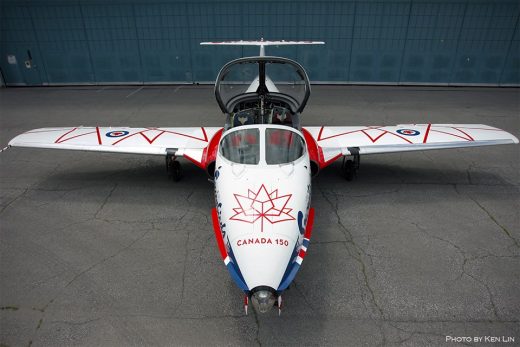 Just in time for the traditional Parliament Hill flypast on Canada Day, the RCAF unveiled a specially painted CT-114 Tutor celebrating 150 years of confederation.
The Tutor is resplendent in maple leaves and other Canada 150 regalia. Canadian Aviator photographer Ken Lin was one of the select media reps invited to the unveiling and filed this report on our Facebook page, where you can also see more photos.
Canadian Aviator contributing photographer Ken Lin recently took the following images of the "Canada 150" theme CT-114 Tutor jet as it was being readied for the ferry flight from CFB Trenton in southern Ontario to the 431 Sqn Snowbirds home base in CFB Moose Jaw, SK.
Sqn CO Lt. Col. Brad Wintrup and Sqn WO MWO Greg Fleet were the aircrews flying this beautifully painted jet home, which will be used to support smaller venues or dates where the nine-ship formation cannot attend during the celebration of Canada's 150th birthday this year.
While the topside of the aircraft has simple yet elegant designs, the bottom of the aircraft is painted with 150 maple leafs to symbolize the 150th birthday of Canada, it will be very visible from the ground even during level flights.
Northern Air Tour Update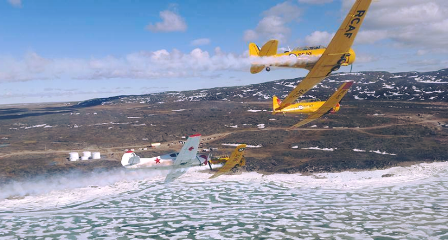 By Diana Spremo
The Canadian Arctic Aviation Tour performed air show #60 Wednesday in Churchill, Manitoba, the polar bear capital of Canada. Performers have been seeing lots of polar bears as they fly above the North.
This Saturday, to celebrate 150 years of Canadian Confederation, #ArcticTour150 will be performing in Baker Lake, Nunavut, the geographic centre of Canada.
The town is going all out with a cultural music/arts festival and BBQ.
The photos and stories coming out of the tour are incredible and the traveling tour members would love southerners to know more about the positive impact they are having.
They keep hearing how entire towns are coming out to see them.
Solar Ship Demo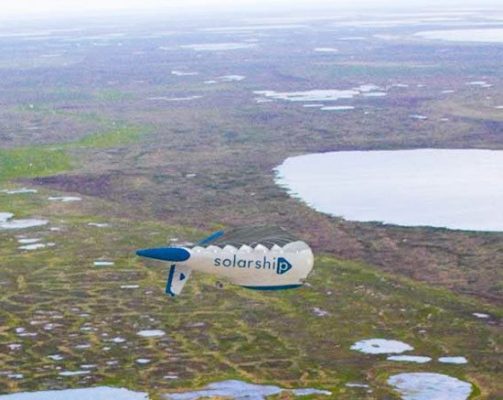 Solar Ship, a solar-powered airship, completed the first in a series of flights to develop a fossil fuel free transport and logistics system for Canada's North. Solar Ship is working with Defence Research and Development Canada (DRDC) as part of project to support the Department of National Defence.
The project is being funded by the Federal Government's Build in Canada Innovation Program (BCIP) to work with DRDC to demonstrate the capabilities of a new transport system able to service Canada's far North without using fossil fuel. The aircraft will be tested for a number of capabilities including cargo, long endurance surveillance and reconnaissance, and low speed search and rescue.
DRDC's Vaughn Cosman was on site to witness the flight. He said "We knew Solar Ship's hybrid aircraft platform has the potential to lift a great deal of cargo. Today I saw an extremely well trained team fly a stable, controllable aircraft. I have many years of experience flying in Canada's north and I'm excited to work with Solar Ship to create a robust, fossil fuel free transport and logistics platform that will change the way we connect our north."
Solar Ship's CEO, Jay Godsall said: "We agreed to celebrate Canada's 150th with DRDC early by showing what the Wolverine aircraft platform can do for connecting Canada's north. DRDC has been a fantastic partner helping us define what we need to do to create a robust platform for the north. Fossil fuels are an economic and environmental trap for the north. They can be replaced. A new generation of northern people can make this shift. We need to demonstrate these systems are robust enough for the north and DRDC is the ideal partner to accomplish this."
This milestone marks the first demonstration flight for Solar Ship's Wolverine line of aircraft, which will feature amphibious capabilities and the ability to transport cargo loads that bush planes cannot carry.
COPA, TC Advance Safety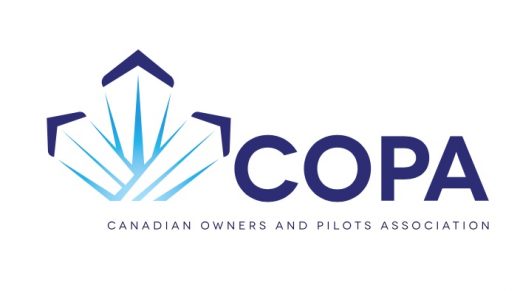 The Canadian Owners and Pilots Association (COPA) and Transport Canada have announced the launch of a new campaign aimed at educating pilots, passengers, and the general public on key areas related to safety in general aviation. Through an investment by Transport Canada over the next three years, the General Aviation Safety Campaign will highlight important topics in several areas of general aviation.
The announcement was made at a panel discussion at  COPA's 2017 Convention and Trade Show held in Kelowna, B.C. June 24
Aimed at both pilots, industry stakeholders, and the public, the campaign will address: promoting compliance with safety regulations, building awareness of safety hazards and risks, enhancing collaboration on safety strategies, promoting Canada's State Safety Program and safety objectives, and increasing public confidence in civil aviation. The safety campaign represents a partnership between Transport Canada and COPA, supported by an advisory committee comprised of partner associations from across Canada.
"COPA is proud to partner with Transport Canada in launching this exciting initiative to not only inform members of the general aviation community, but also the public on some of the important safety topics relevant to general aviation," said Bernard Gervais, president and CEO of COPA. "As general aviation pilots, we take pride every day in committing ourselves to the highest standards of safety both for our passengers and ourselves. COPA is pleased that Transport Canada has chosen to work with us in this educational context in order to avoid imposing costly and unnecessary regulatory burdens on Canadian pilots."
General aviation describes all civil aviation operations that are not scheduled air services, or unscheduled air services for hire. The most common general aviation activities include private aviation, business aviation, agricultural aviation and flight training. It is estimated that nationally, general aviation contributes $9.3B to the Canadian economy and accounts for almost 36,000 direct and indirect jobs.
"The safety of the aviation community is a priority for Transport Canada. Through this campaign, the department is taking a proactive approach to safety by collaborating with key stakeholders to promote regulations, build awareness of risks and educate passengers, aircraft owners and maintenance providers on safe aviation practices," said Aaron McCrorie, the director general for civil aviation at Transport Canada.