Scroll Down to see all of this week's updates
Labrador Airlines Combine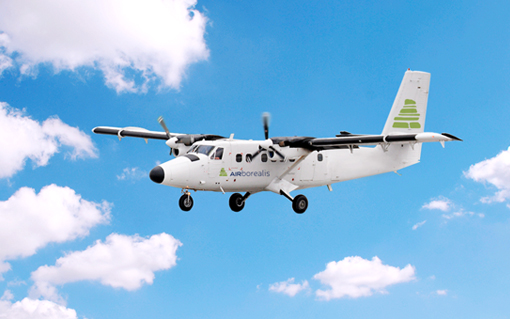 When Air Labrador ceased to exist last week, its longest serving pilot figured that was as good a time as any to end his highly respected career. Lester Powell spent 44 years engaged in some of the most challenging flying on Earth, ensuring people and freight could move in and out of the far-flung communities of northern Labrador and Quebec. "When you've flown in as much weather — and often without [instrument flight rules and] things like that — and you're able to hang up your headset and still be here and be safe, it's worth celebrating," Dempster said. Although he spent more than four decades and 35,000 flight hours at Air Labrador, he was only there for half of the airline's life. It was founded in 1948 and was one of the longest lived airlines in the world until last week when it became part of a new venture called Air Borealis.
Air Borealis is the amalgamation of Air Labrador, which is owned by the Inuit-owned Nunatsiavut Group of Companies and Innu Mikun, owned by the Innu Development Limited Partnership. Innu Mikun was run by PAL Airlines and the new airline will be run by PAL. The amalgamation has created a monopoly but rather than compete for passengers the schedules of the two carriers can be adjusted to provide expanded service. New flights will be added and the greater availability of aircraft will ensure faster response times for needed services. Innu and Inuit residents will get discounted fares on Air Borealis.
New Hall of Fame Inductees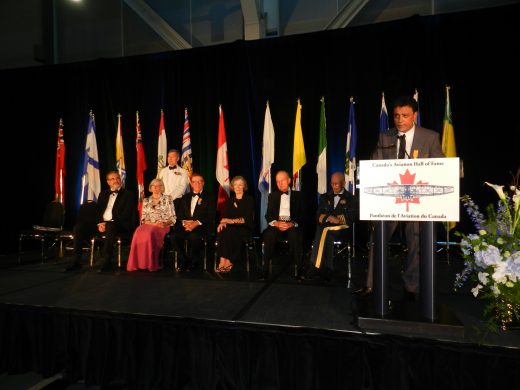 Hundreds of Canada's aviation leaders were on hand at Vancouver International Airport June 15 to witness the induction of four new members of the Canadian Aviation Hall of Fame and the honouring of the RCAF's Golden Hawks. The Hall welcomed loving members Robert Deluce, founder of Porter Airlines, Daniel Sitman, founder of Helijet Airways and Rogers Smith, a retired NASA test pilot and bestowed the honour posthumously to Erroll Boyd, the first Canadian to fly across the Atlantic. It was the 44th induction ceremony and was held in a concourse at YVR.
Deluce told attendees that growing up in a flying family paved the way for his ultimate success and credited his close-knit family, many of whom attended the ceremony, for charting the course. The Deluce family started White River Air Services in the 1950s before Deluce was born and he joined the family business in 1971 during a period of rapid expansion that led to their operations dominating the regional airline business in Ontario. Air Canada acquired a majority share of the business in 1987 and Deluce became president of Canada 3000. Porter was started in 2006 and has grown to become a major regional carrier in eastern Canada and the northeastern U.S. with its base at Billy Bishop Airport on Toronto Island.
Daniel Sitnam grew Helijet from a single Bell 412 with scheduled service from YVR to Victoria in 1987 to a fleet of 16 helicopters and two fixed wing aircraft flying 300 scheduled routes a week. It's the world's largest scheduled helicopter carrier and also does medevac and charter flights. Sitnam told the crowd the can-do attitude of his staff propelled the airline into its current position and he urged those attending to act on those dreams and good ideas that turn into successful enterprises.
Rogers Smith was born in tiny, isolated Dawson Creek, B.C. in 1934 but his mother was obviously convinced that he would reach for the stars. She wrote on the back of a picture of three-year-old Rogers that she would "see you in the hall of fame," and Smith showed that photo to the crowd. After a career as an RCAF fighter pilot, Smith was top-level test pilot for NASA and flew the SR-71 Blackbird and a number of prototype fighters. At 83, he still flies his Cessna 182 to support his work as an unmanned aerial vehicle test pilot.
Errol Boyd flew a Wright-Bellanca WB-2, named Maple Leaf, across the Atlantic with navigator Harry Connor on Oct. 9, 1930. They took off from Harbour Grace, NL and almost became a grim statistic in those danger-fraught days of record setting flights. Fuel system problems forced them down on Tresco, one of the Scilly Islands, off the east coast of the U.K.
The gala also honoured the RCAF Golden Hawks and its founding commander, Fern Villeneuve, was on hand to accept the Belt of Orion Award. Villeneuve laid much of the credit for the team's success on the ground crew that kept the complex fighters airworthy on the show schedule.
COPA Convention Is On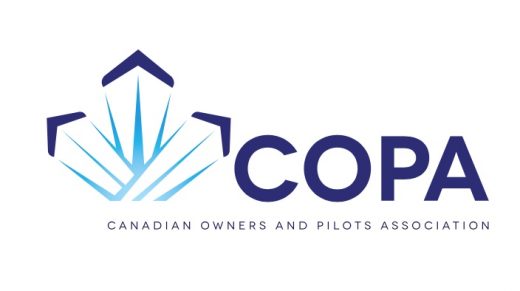 Hundreds of delegates are expected at the Canadian Owners and Pilots Association annual convention and tradeshow in Kelowna, B.C. this week.
Among the first things those attending saw was the organization's new branding, which is a marked departure for the group's wings logo that had been virtually unchanged over the past 65 years.
The new logo was designed by Dave O'Malley of Ottawa-based Aerographics and incorporates a stylized maple leaf formed of wings heading skyward.
"The new maple leaf burst brand identity of the Canadian Owners and Pilots Association expresses the energy, joy and freedom inherent in aviation in Canada today," O'Malley said
Business sessions begin on Friday and there are more than 30 businesses in a trade show. The static display has attracted about 15 aircraft.
First Flight For Fairview Canso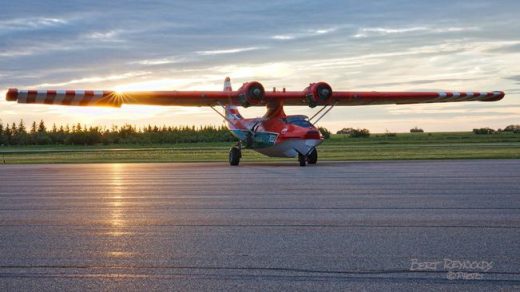 After one of the most complicated recovery and restoration efforts in warbird history, much of the town of Fairview, AB turned out to watch a PBY Canso lift off from the local airport for its official first flight on Father's Day. The aircraft is a former RCAF Canso that hunted submarines in the North Atlantic in the Second World War. It's second career as a water bomber ended during a rough landing that holed the hull on Sitidgi Lake in the Northwest Territories in 2001. The owner, Buffalo Airways, hauled the aircraft to shore and salvaged the engines but left the airframe beside the lake. That's where the Fairview Aircraft Restoration Society stepped in.
In 2008 they dragged, trailered and barged the aircraft to Fairview and, over eight years, restored it to flying condition. Veteran Canso pilot Bill Brady was at the controls for the June 18 flight. "It flies beautifully, nice and straight," he told the CBC. ""It flew just like a Canso. Very heavy on the controls," he said. "You use an awful lot of rudder which you don't [use] on most airplanes." Two Second World War Canso pilots, James McRae, 99, and Hal Burns, 94, were on hand for the event. The society plans to use the aircraft as a flying museum to educate people about Canada's wartime aviation contribution.