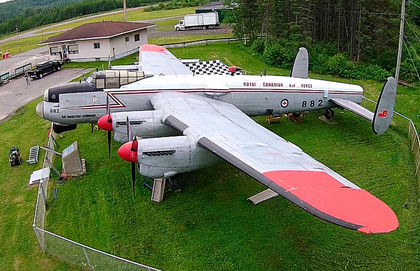 The Alberta Aviation Museum has launched a Kickstarter campaign to raise almost $90,000 to restore an historic Lancaster to running condition.
The aircraft, one of 430 Lancs built at Victory Aircraft in Malton, Ontario toward the end of the Second World War, has been on outdoor static display in Edmunston, New Brunswick, since it was retired by the RCAF in 1964.
After war service, it was modified into a surveillance and reconnaissance aircraft and was used to spy on the Russians in the North during the Cold War.
The Edmonton museum wants to restore it to its operating condition as a surveillance aircraft. It would be the only example of that variant of the Lancaster after the Greenwood Military Air Museum in Nova Scotia reversed the modifications on a similar Lanc to restore it to its wartime configuration.
The Kickstarter campaign will supply a fraction of the cost of the Alberta museum's project. Just moving the giant airplane to Alberta is expected to cost $200,000 and the full restoration will be in the millions.
All worth it, according to museum spokesman Steve Finkleman.
"We are hoping to be able to start up the engines and let people hear the growl of these Rolls Royce Merlin engines," said Finkleman. "It's sort of those lost sounds of World War II that these generations really won't hear again and won't hear anywhere else except on these old war birds."