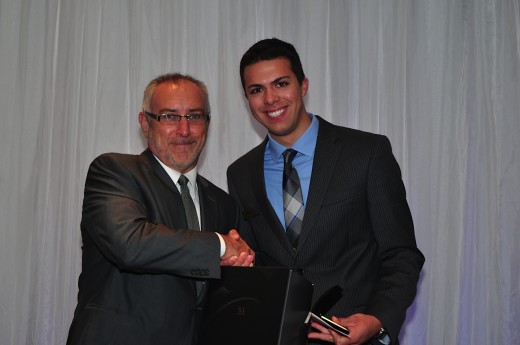 Sebastian Leduc is this year's Webster Memorial Trophy winner. The Seneca College student competed against eight other young men from across the country to earn the title of Canada's Top Amateur Pilot the week of Aug. 17-25 at Waterloo Wellington Flight Centre.
Leduc represented eastern Ontario in the competition. Runner-up was Andrew Bryson, of Manitoba. He trains at Harv's Air.
Other competitors were Matthew VanderPloeg, representing B.C., from the Pacific Flying Club: Corey Harke, Cooking Lake Flying Club, Alberta: Matthew Skwara, Regina Flying Club, Saskatchewan: Alexander Hislop, Sault College, Western Ontario: Gregory Yandle, Seneca College, Central Ontario: Ali Hoteit, Cargair, Quebec: Mark Nardei, Moncton Flight College, Atlantic.
After qualifying as finalists in a regional selection process, the competitors meet for a week of practical (aircraft and simulator) and written exams along with one-on-one interviews with a panel of judges. The judges, including two Transport Canada examiners, then compile the results and come up with a winner.
Leduc thanked the competition organizers for the event, Wayne and Amy Foy, for their tireless efforts to continue to improve and elevate the competition.
For his winning effort, Leduc earned thousands of dollars in prizes and training credits, including a professional development day with the Snowbirds, and a guaranteed job offer as an instructor at Brampton Flight Centre.
Guest speaker was Hon. Col. Gerald Haddon, the grandson of J.A.D. McCurdy, the first pilot to fly a heavier-than-air powered aircraft in Canada at Baddeck, NS in 1909. Haddon recounted his grandfather's life and his life-changing accomplishment in his speech.
Next year's competition moves to the West Coast at Pacific Flying Club at the Boundary Bay Airport south of Vancouver.