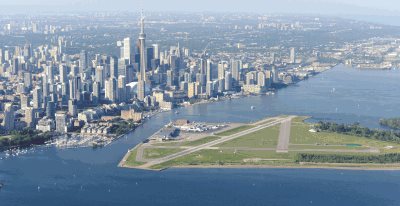 New Liberal Transport Minister Marc Garneau has confirmed his government will not reconsider a bid by Porter Airlines to fly jet aircraft out of Toronto's Billy Bishop Airport.
Garneau told reporters the matter is a "quality of life issue" for residents of Toronto but it's not just about jets.
"It's bigger than that," Garneau told the Hamilton Spectator. "It's an issue that is an election promise and its main focus is on the fact that Torontonians want to have a greater say in the development of their waterfront.
"Sometimes issues are quality of life issues and those are important."
Garneau killed the idea by refusing to open the tripartite agreement with the city of Toronto and the  Toronto Port Authority. That agreement includes a decades-old ban on jets, largely due to noise issues.
But proponents of the jet plan, which would have also required expansion of the airport, say the clause is outdated and modern jets are much quieter than those of 30 years ago.
The decision puts the brakes on Porter's plans to serve destinations throughout North America from the Toronto Island airport and it also halts Bombardier's only sale of its CSeries airliner in Canada. Porter's order of 12 aircraft was conditional on approval of the airport expansion and amendment of the agreement.