Scroll Down to see all of this week's updates
Snowbirds Uncancel U.S. Shows

Some high-level intervention has ensured the Snowbirds will fly south this summer.
In a news release last week, the RCAF announced the schedules of both the Snowbirds and the CF-18 demo team and both include U.S. stops.
A few weeks ago, the RCAF announced it had scrapped four U.S. shows because budget cuts had reduced their flight hours and Canadian shows had to be the priority. Apparently the devastation of four U.S. air shows counting on the team as their main draw suddenly became a priority with someone who outranked whoever pulled the plug on those shows. Whether or not the flight hours were adjusted accordingly isn't clear.
The team was originally scheduled for four U.S. shows but one of them, in Cape Girardeau, Missouri, has since been cancelled. Whether there will be a fourth U.S. show as originally scheduled is not clear but there have been suggestions on U.S. aviation web sites that a show in San Diego is a possibility.
In announcing the abrupt schedule change, Gen. Yves Blondin, who commands the RCAF, said the Air Force is part of the larger community of military forces. "The RCAF is committed to collaborating and cooperating with our international allies and partners."
In that spirit, the CF-18 demo team is headed to Belgium and Switzerland for shows this summer along with a couple in the U.S.
Here are the Snowbirds and CF-18 schedules.
McLeod Third in Abu Dhabi
Canadian Red Bull race pilot Pete McLeod  had his first-ever podium finish Saturday when he came in third at the Red Bull Race Series opening event in Abu Dhabi this weekend.
McLeod finished behind defending champion Paul Bonhomme, of the U.K and Hannes Arch, of Austria to claim his first top-three finish in the race series.
The strong  finish made McLeod the pilot to watch in the series, which resumed this year after a three-year hiatus. As a new pilot with limited sponsorship in the 2009 and 2010 seasons, McLeod struggled with a slower, less agile plane than some of the other better funded teams but new rules this year, including matching engines on all the race planes, have made pilot skills more important than sponsorship and McLeod has risen to the challenge.
McLeod turned heads Friday by beatin both Arch and Bonhomme to take first place in the qualifying round."It's exciting to get first today,"  McLeod said after his qualifying win. "I felt really good in the track and was really focused. Paul was right there behind me and there were a bunch of other guys close behind too. Some of the other guys after me might have had some misfortune with the wind changing or first race qualifying round jitters."
The wind swung around during qualifications but McLeod compensated and crossed the finish line in qualifying at 57.932 compared to 58.129 for Bonhomme. Five of the racers behind McLeod clipped pylons during the qualifying race.
WestJet Pilot Responds to Sexism
The well-chronicled story of the WestJet captain who was told by a passenger to metaphorically take command of a mini-van full of kids came at an ironic time for those who have mounted a global effort to encourage more women to fly.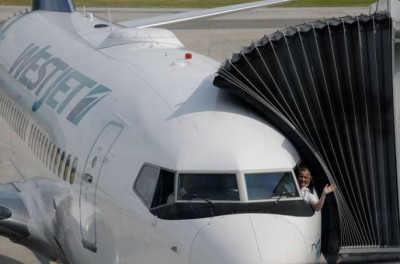 It's International Women of Aviation Week, which is led by Canadian Aviator columnist Mireille Goyer, and thousands of volunteers are battling weather and other challenges to give women and girls a chance to fly, mostly for the first time, in small aircraft to see if they like it and to show them how they, too, can do it.
For those who haven't  heard the story about WestJet Capt. Carey Steacy's encounter with some blatant sexism last week, a note scratched on a napkin was left behind by a passenger who identified himself as "David" and told Steacy not only that she had no business a "the helm" of the 737 going from Calgary to Victoria but also suggested WestJet let passengers know about the gender arrangement in the front two seats so passengers like him can make male-only arrangements.
David, who started questioning flight attendants about Steacy's suitability for the left seat as soon as he heard her first PA announcement. The note, which said "the cockpit of an airliner is no place for a woman" and that "being a mother is the most honor."
WestJet said it wouldn't dignify the note with a response but said it supported Steacy.  Steacy posted the note on Facebook and outed her reluctant passenger.
True to the statistics, WestJet has 58 females among 1,158 pilots, slightly less than the six percent of pilots who are women based on the number of licences issued.
International Women of Aviation Worldwide activities began with a snowbound launch in Washington, D.C. and we'll have further reports later this week.
Women Fly Worldwide This Week
It's Women of Aviation Worldwide Week and Canadian Aviator columnist Mireille Goyer, who heads of the effort and the Institute for Women of Aviation Worldwide is flying all over North America checking on the increasing number of events aimed at interesting girls and women in flying.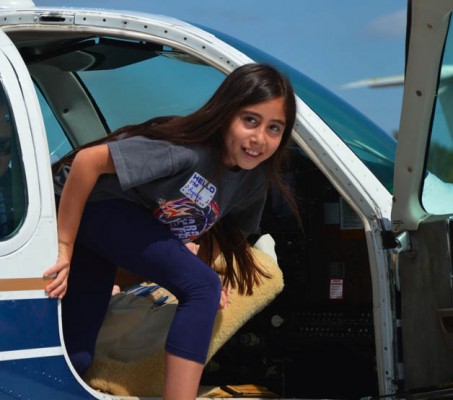 Only about six percent of pilots are women and while legal barriers were the root cause of the disparity, it's now a social and cultural phenomenon. Goyer says there is no lack of interest among girls to take up flying but many believe they are unable to pursue the goal.
The week involves dozens of locally organized events in which volunteer pilots take girls and women flying for free. The experience is carefully documented to assess the impact of the effort and there are a variety of prizes and other incentives offered. Flying and information events are being held in several countries, including Australia for the first time.
The week got off to a challenging start because of something pilots are all too familiar with. The marquee event of the week, to be held at College Park Airfield near Washington, was snowed out when the latest of a seemingly endless string of winter storms battered the east coast. The venue for the event was closed for the day because of the snow. The online video portion of the event was salvaged when the Aircraft Owners and Pilots Association offered use of their video facilities for the feed. Wing walker Jana Leigh McWhorter, Women of Aviation Worldwide Week U.S Team Leader Victoria Neuville Zajko, Aerobatic pilot Jacquie Warda, and Aerobatic pilot Melissa Pemberton took part in the alternative effort.
Many of the flying events are happening this coming weekend.