Scroll Down to see all of this week's updates
Call For More Navaids At Halifax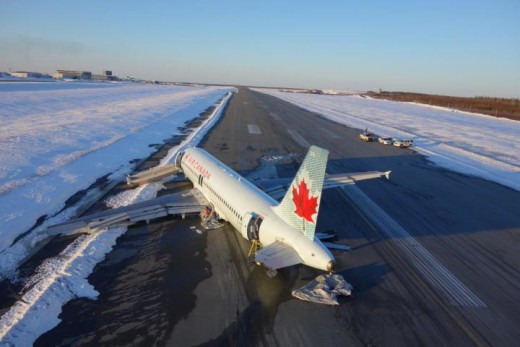 A group of pilots pressed Stanfield International Airport officials on the need for more full ILS approaches at airport in an unusual annual general meeting last week.
The CBC is reporting that at least six pilots showed up at the meeting, a normally dry affair that focuses on passenger totals and freight tonnage and asked pointed questions about the bad weather capability of the airport.
The crash of an Air Canada A320 last March prompted the inquiries because it happened on a runway that has only a localizer approach. Only two of four runways at Halifax have full CAT II approaches.
High winds forced the Air Canada crew to use Runway 05, which doesn't have the equipment. The aircraft struck the localizer and bounced to the runway where it slid to a stop early on the morning of March 31.
"I'm not suggesting the approaches are unsafe, because they're not, but there are better ways for pilots to navigate in," said Norm Murnaghan, a retired airline pilot who flew for 35 years.
Airport CEO deflected the question by saying that Nav Canada decides which navaids go where.
"This airport needs to be upgraded, as far as their nav aids are concerned," Murnaghan told the CBC. "As a pilot we want to get that airplane and the people that are in it safely on the ground."
CSeries To Debut in Paris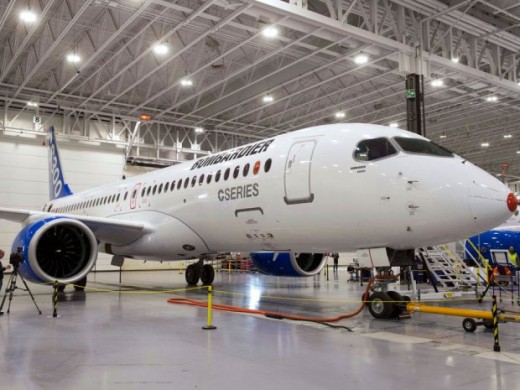 Bombardier will have a static display and do daily flight demonstrations of its CSeries airliner at the Paris Air Show next month in what will be a crucial public debut for the aircraft.
Bombardier's new CEO Fred Cromer said he's hoping to put past controversies and disappointments  behind the company as it moves toward delivery of the first CSeries next spring.
"I don't really want to use the word 'reintroducing,' but I think getting back out there with the flight-test program where it is today and talking about the aircraft's capabilities with confidence is going to be the primary focus of the sales and marketing teams," Cromer told the Financial Post.
The good news is that the flight tests are reportedly going well and the aircraft should be ready for its primetime appearance at the show.
The announcement came on the heels of Swiss Air's firm commitment to become the launch customer for the aircraft.
Cromer hopes a successful launch at Paris will lead to more well-known names placing orders.
"There's always pressure for the air-show events, just because the spotlight is there," Cromer told the Montreal Gazette. "To the extent we can bring current negotiations to closure for Paris, we will try to make that happen. We would like to accelerate announcements for Paris, but some of that is out of our control."
Canadian North, First Air Codeshare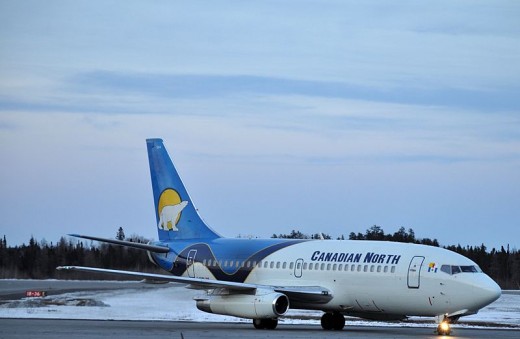 Canadian North and First Air have decided to cooperate through a codeshare arrangement on "select flights."
"Our airline operates in one of the most challenging geographical and economic environments anywhere in the world," says Canadian North President Steve Hankirk. "With escalating costs, shrinking travel budgets and increasing competition, we must always be looking for new, more efficient ways of offering our scheduled service to northerners. This codeshare agreement is a breakthrough that brings even more choice to our northern customers and ensures our long term sustainability."
Last year, the Canadian North and First Air announced they were going to merge but the complexities made such a deal not viable.
"Introducing this codeshare will significantly improve flight schedules, provide greater choice for customers and continue to improve the sustainability of our airline," the airlines said in a statement. "This agreement is less complex than a merger agreement, however many of the benefits envisioned previously in a merger scenario will be realized with it. Unlike a merger though, where a single merged firm sets prices post-merger, under this codeshare agreement each party will continue to independently set prices and compete for business."
A major feature of the plan is to alter flight schedules to ensure comprehensive service to communities served by both airlines but with flights timed to minimize overlap. The new schedules will be out in June.
Air Canada Adds U.S. Flights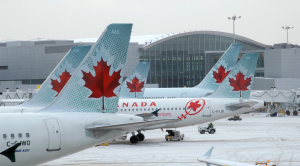 Air Canada is taking advantage of the weak Canadian dollar to scoop up flights that are being abandoned by U.S. carriers who can't get the revenue from them they're used to.
"We've seen reductions from all the U.S. carriers that serve Canada," Air Canada chief executive officer Calin Rovinescu was reported by the Globe and Mail to have said on the airline's first-quarter conference call Tuesday. They're pulling back because weakness in the Canadian dollar versus its U.S. counterpart makes the market less attractive, Mr. Rovinescu said.
"The opposite is actually in place for us, where point-of-sale U.S. revenue is now more attractive so we have a double benefit under this scenario," he said.
U.S. airlines are dropping generally low-volume flights between second tier cities like Houston and Denver to smaller Canadian communities like Regina and Thunder Bay.
Air Canada has not announced how it plans to fill the void, only that it will.