Scroll Down to see all of this week's updates
Bell Poised to Win Second Coast Guard Heli Bid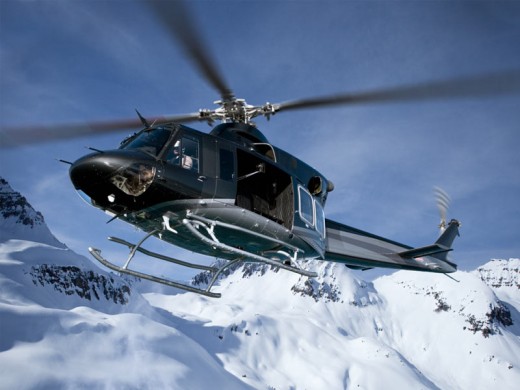 It appears Bell Helicopters Canada is a shoo-in to win a second Coast Guard helicopter contract because other manufacturers won't be submitting bids.
According to the Canadian Press, the Bell 412 is likely to be the next medium-lift Coast Guard helicopter. Bids close May 27 but CP says Agusta Westland, Sikorsky and Airbus Helicopters Canada have all "signalled they won't be submitting bids."
Assuming the scenario plays out as CP predicts, the 412s will join 15 Bell 429 "light-lift" helicopters in the Coast Guard fleet. Bell got that $172 million contract for the 429s on Monday. It was also the only bidder in that competition.
It's not clear if the other companies' refusal to bid on the medium-lift contract is related to the controversy that surrounds light-lift contract.
Airbus Helicopters pulled out of the light-lift competition and filed legal action against the government claiming Bell was given an unfair advantage in the bidding because of a weight exemption granted by Transport Canada for the 429. The Bell aircraft has a gross weight of 3,400 kg. but the weight limit for "light" helicopters in Canada is 3,175 kg. Transport Canada gave Bell an exemption on the weight Airbus claims that gave the 429, which is built at Mirabel Airport in Quebec, an unfair advantage.
That suit is still before the courts and Airbus said in a statement that it "deeply regrets" the decision of the federal government to go ahead with the contract even though it may be overturned by the court.
P&WC Celebrates 30 Years of the PW100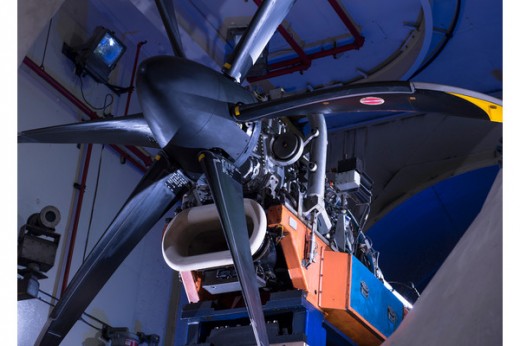 This year marks the 30th anniversary of an engine that can legitimately be credited with making regional airliners possible.
The PW100 first flew in 1984 on a Dash-8 and it's now installed in almost all of the popular Western turboprop regional aircraft.
"It is readily acknowledged that the PW100 helped create the regional turboprop airline market and today it remains the market leader," said P&WC VP Richard Dussault.
The PW100 was an outgrowth of the success of the PT6 family of engines, the largest of which, at the time, put out about 1,000 shaft horsepower. The first PW100 was 1,800 shp and there are now 38 models ranging to 5,000 shp.
In addition to airliners, the engine is widely used in military, cargo and amphibious aircraft.
P&WC is now working on a new series of engine called the next-generation regional turboprop. It's expected to burn 20 percent less fuel and cost 30 percent less to maintain and have as much as 7,000 shp, making it suitable for regional aircraft with more than 90 seats.
FltPlan.com Offers Digital CFS, VNCs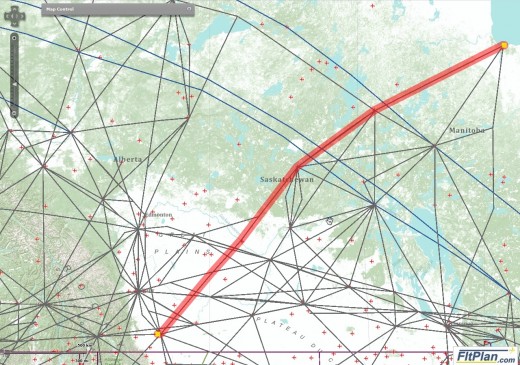 FltPlan.com has worked out a deal with Nav Canada to offer free digital copies of the Canadian Flight Supplement and visual navigation charts (VNCs).
The new offerings are timed to coincide with the busy summer flying season and will benefit not only those flying between Canadian destinations but will help out visiting pilots.
"With the summer months almost here, Canada becomes a popular destination or stopover point going to Alaska," said FltPlan President Ken Wilson.
FltPlan's subscriptions already offer virtually all Nav Canada charts and plates and they're all integrated into its iPad and Android apps.
FltPlan has been offering online flight planning and information services for 14 years and has been working with Nav Canada in 2011.
CSeries Adds Orders, Flight Tests Progress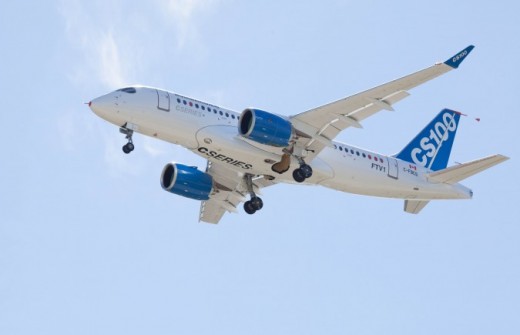 Bombardier's CSeries flight test program moved to the relative anonymity of Wichita, Kansas for the winter and engineers got some work done in the somewhat better weather offered there.
The fourth flight test aircraft is almost ready for its first flight and the other three have accumulated a total of 280 test hours. In an earnings statement issued last week, Bombardier said the aircraft has been cleared for testing in the full speed and altitude envelope, which should increase the rate at which the flight test program proceeds.
It requires 2,400 hours of flight test before certification.
Meanwhile, it looks like Bombardier has sold six CSeries to Libya as it inches toward its goal of 300 firm orders when the aircraft enters service. The Libyan order would nudge the current total to 209 firm orders but there are at least that many options that could be converted, also.
Bombardier has also announced that CSeries aircraft will come with optional factory-installed internet and entertainment systems supplied by Panasonic. The exConnect system is the same as that chosen by WestJet for its aircraft. The system will connect to the passengers' own tablets and phones but most airlines will also rent display devices to those who don't have their own.
Air Canada Picks Up 787 Saturday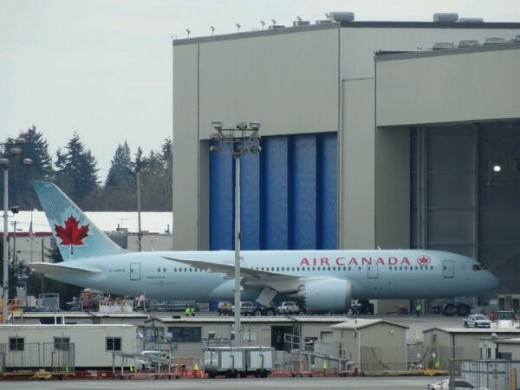 Air Canada CEO Calin Rovinescu and 50 employees who won an internal contest will be on hand in Everett, Washington to take deliver the company's first Boeing 787.
The aircraft was ordered nine years ago and will add flexibility and efficiency to the airline's wide-body fleet.
Air Canada Chief Commercial Officer Ben Smith called the 787 a "grand-slam home-run type airplane" in an interview with the Globe and Mail.
The aircraft carries more people, has a longer range and uses 20 percent less fuel than the aging 767s that fill the gap between the airline's modern 777s and its single-aisle fleet.
After flying home to Toronto on Saturday the first aircraft will go to work on a new route between Toronto and Haneda, Japan. The 787 will also serve Tel Aviv.
There's another 787 on the line in Everett that's almost ready for delivery and airline officials say more routes to Asia are planned.