Scroll Down to see all of this week's updates
Garneau Presses Laser Concerns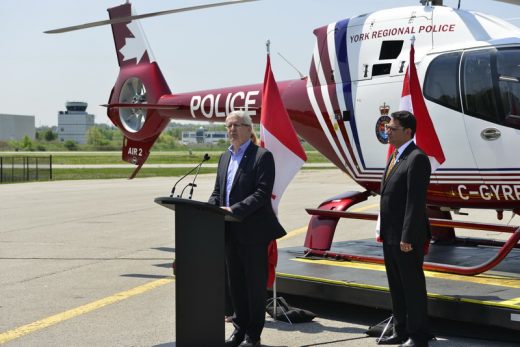 By Michael J. Martin
Transport Minister Marc Garneau re-iterated his government's concerns about laser attacks on aircraft but didn't announce any new measures to combat the reckless practice at a news conference at Buttonville Airport on Tuesday.
Garneau stated that in 2015, nearly 600 laser strike incidents were reported to Transport Canada, an increase from the 502 incidents reported in 2014. In 2016, that number stands at 148 incidents, from January to April.
"Pointing a laser at an aircraft is not only a reckless act that puts people at unnecessary risk, it's simply not a bright idea. As Minister of Transport, I take this type of behaviour seriously because Canadians and their families deserve to feel safe while flying. We want people to know there are serious consequences, including $100,000 in fines and up to five years in prison. Transport Canada and law enforcement across the country are working together to ensure offenders face the fullest force of the law" said Minister Garneau.
Lasers can distract pilots, causing glare that affects their vision, or temporarily blind them. "Members of the York Regional Police Air Support Unit know all too well the dangers of being struck by a laser beam. When up in the air, our pilots need their full attention to be on the task at hand – flying safely. They can't do that when they are distracted by lights being directed into the cockpit. At best, lasers are a distraction for pilot, but at worst, they can temporarily blind them, risking everyone's safety" says Chief Eric Jolliffe, Chief of Police, York Regional Police.
Minister Garneau said that Transport Canada is continuing with its education efforts under the program called, "Not a Bright Idea". Lasers place the pilots, passengers, and people on the ground at risk of injury or death. This education campaign is focused on getting the word out about the risks and the seriousness of this activity. Garneau said that education is essential as he thinks most people are simply not aware of the potential for harm that these lasers can cause to a pilot during the most critical phases of flight when landing or departing airports. He warned that the police will prosecute to the full extend of the law. Parents, teachers, and product distributors need to teach children that laser pens are not toys and are in fact dangerous weapons to aviation. Health Canada warns that so called, "flash blindness" can temporarily blind a pilot much like a camera flash can cause temporary retention of the burst of light in your eyes. So, understanding, education, and appreciation of the impacts will build awareness and help to reduce this problem.
Aireon Makes Tracking Progress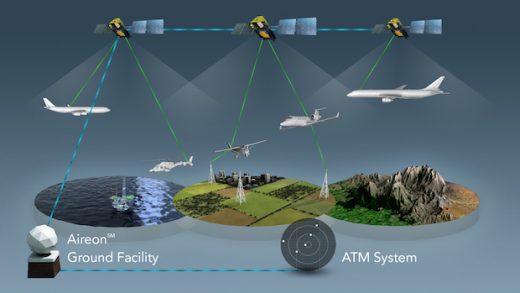 Aireon's satellite-based aircraft tracking system has passed a reliability test with the Irish Aviation Authority. The company has partnered with Nav Canada to develop the worldwide system that would keep tabs on any aircraft with ADS-B Out.
The equipment test was a major milestone toward building the system that will be offered on contract with air navigation services providers but will also maintain a free emergency tracking service for aircraft in trouble.
The system will be based in Ireland and the Irish are among the first customers.
"This first milestone marks a significant advancement for the IAA in deploying space-based ADS-B in Irish airspace. This also moves us one step closer to rolling out Aireon ALERT to the world's aviation stakeholders and search and rescue organizations," said Peter Kearney, Director ATM Strategy and Operations, IAA.
"With the success of the Factory Acceptance Test, we are moving towards providing this free public service for registered aviation stakeholders – with real-time tracking data – the likes of which have never been available globally to the industry before. Our engineering team is rapidly working to ensure that Aireon ALERT will be fully operational in when it's time to go live in 2018."
NavCanada is a 50 percent partner in the program and will use the system in its own airspace.
Life Vest Rule Proposed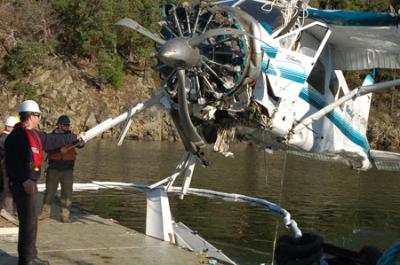 Transport Minister Marc Garneau is proposing that all passengers and crew aboard commercial float planes wear life vests.
In a statement released on Friday, Garneau said the proposal is being made in reaction to an investigation into the fatal crash of a crash in 2009 that killed six of eight people aboard. The Beaver crashed near Saturna Island in B.C.'s Gulf Islands and all those who died survived the crash but drowned in the cabin.
The Transportation Safety Board made the life vest recommendation in its report and also urged installation of cabin windows that release easily in an emergency.
"I'm pleased Canada continues to be an international leader in aviation safety by becoming the first country to propose the mandatory wearing of flotation devices on seaplanes," said Garneau in a statement. "Seaplanes offer a unique and convenient way to explore Canada's landscape and to reunite families and friends in remote areas."
A Beaver crash on Lillabelle Lake in Northern Ontario that killed two people also factored into the proposal.
There is a 30-day comment period on the proposed rule.
Fighter Makers Pitch Planes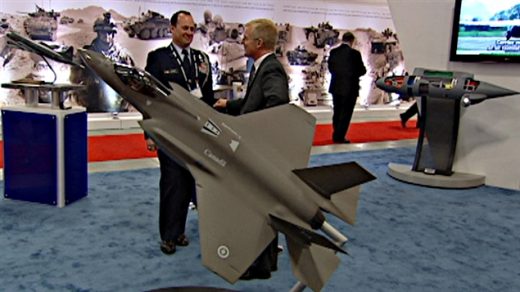 All the major players in the battle to replace Canada's 30-year-old CF-18s are exhibiting at CANSEC, a big military and security trade show in Ottawa this week and they're finding a big audience of federal officials.
The Globe and Mail reported that federal presence was heavy as government officials checked out the simulators and talked to the exhibitors at the show.
Although Prime Minister Justin Trudeau campaigned on a promise to kill plans to by the F-35, Lockheed Martin has a huge presence at the show, including former RCAF pilot Billie Flynn, the program's chief test pilot.
"What I know is that the F-35 program continues to advance and that more countries continue to commit to the airplane with vigour," Flynn told the Globe. "There is no wavering of commitment of the partners in the F-35 program and the momentum continues to be strong."
The F-35's major competition is thought to be the F/A-18 Super Hornet and Boeing is heavily playing up its twin-engine configuration as a safer option.
"It is fundamentally important for the kinds of missions that Canada performs on a day-to-day basis," said Roberto Valla, Boeing's vice-president for Canada.
The underdog is likely Saab's Gripen but Saab spokesman said the company is looking for clarity from the tire-kicking feds.
"At this point, the government really needs to come out and tell us what they are looking for," said Saab's John Belanger.