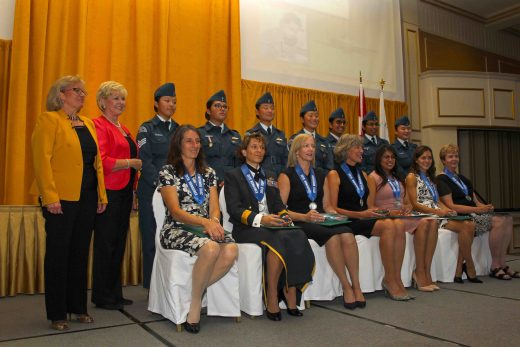 Seven women with distinguished or burgeoning careers in aviation were honoured at the eighth Elsie MacGill Northern Lights Award gala in Vaughan, near Toronto.
Sponsored by Porter Airlines, the evening began with keynote speech by Kanata-Carleton MP Karen McCrimmon, who had 26 years of distinguished military services including as the commanding officer of 429 Transport Squadron at CFB Trenton.
Lt. Col. (retired) McCrimmon kept the packed audience riveted with accounts of her military career, including some candid stories about working with her male military colleagues and concluding with the benefits of encouragement she received and shared with her friends during her career.
Each award winner was then introduced to more than 300 guests in attendance with a summary presentation of their diverse achievements. Each spoke to the audience themselves, sharing their experiences breaking through the gender barriers in a traditionally male-dominated aviation/aerospace industry.
Some light-hearted and entertaining stories were shared that not only illuminated the talent and determination that led to success in their careers but also their warm personable side as mothers, wives, sisters and daughters. Each woman spoke fondly of the strong support from their families and friends as key to their success.
The 2016 Elise MacGill award recipients are: Brigadier General Lise Bourgon for flight ops/maintenance; Dr. Sylvie Beland for government; Jolene Mahody for business, Dr. Catherine Mavriplis for education, Rosella Bjornson for pioneer, Holly Johnson and Navreet Saini for Rising Stars.