Scroll Down to see all of this week's updates
First Flight for Global 7000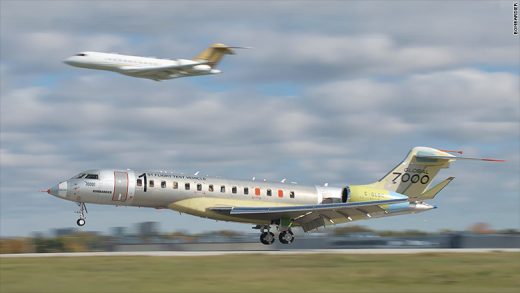 Bombardier says all went as expected with the first flight of its flagship Global 7000 business jet last week.
The big airplane took off from Bombardier's private field at Downsview Airport last Friday for a flight that lasted more than two hours. The plane got to 25,000 feet and 250 mph on the first flight.
It's based on the well proven Challenger series of bizjets so the uneventful flight was no surprise. But while the shape and form of the aircraft is familiar, it's packed with the latest technology and is Bombardier's longest range jet to date. It will go more than 7,500 nautical miles non-stop.
The aircraft will be built in Toronto but most of the flight testing will happen at Bombardier's flight test facilities in Wichita. The weather is better there in the winter.
The program is about two years behind schedule and the aircraft, which was first announced in 2010, will begin deliveries in 2018.
A smaller but even longer range cousin, the Global 8000 will follow in about a year.
Runaway Cart Injures Three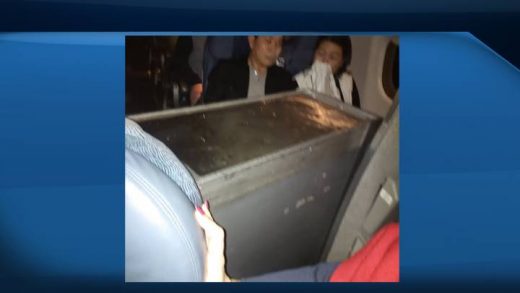 For the second time in as many months, Air Canada passengers have been hurt by a hurtling beverage cart.
In the latest incident, a cart careened down the aisle of an Embraer E190 as it decelerated after landing at Regina on a flight from Toronto on Oct. 31.
The cart, which weighs hundreds of pounds, is shown practically in the laps of a couple of passengers on the plane.
Passenger Valerie Bradshaw said she was knocked out cold by the cart and a man suffered broken bones.
"It had flown down the aisle, hitting the back of my seat and forcing me to fly into the seat ahead of me and I hit the TV monitor with my left side," Bradshaw told Global News.
Bradshaw and another passenger were taken to hospital while a third was checked by paramedics and released.
In late September a cart on another E190 also let loose on landing in Ottawa but a passenger was able to hold on to it before it caused too much mayhem and there was only one minor injury among the five people who were hit.
Billy Bishop Runway Reopens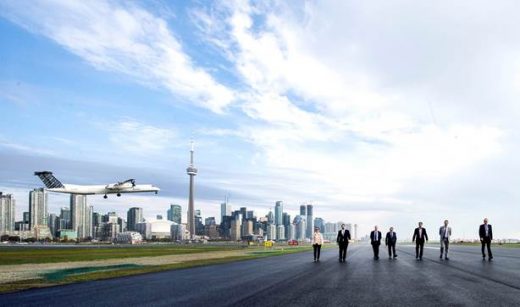 After several months of work, Billy Bishop City Centre Airport's runway 06-24 has been re-opened after being rebuilt.
The runway rehabilitation, which also included repaving 08-26 was the first phase of a three-year plan to bring all the infrastructure at the field up to modern standards.
"After a summer of intensive construction to restore and repave the runways at Billy Bishop Airport I am pleased to come together with representatives of our airport community to celebrate this major milestone in the project," said Gene Cabral, Executive Vice-President of Billy Bishop Toronto City Airport and PortsToronto. "These initiatives to modernize the airport will ensure it continues to serve as an economic engine for the city, provide much needed aviation service and provide efficient service to the 2.5 million passengers who travel through the airport each year."
The airport has become a busy place since Porter Airlines started operation 10 years ago and the traffic had outgrown the decades-old airport facilities.
New lighting, better taxiways and a general refit of the airport will be done over the next three years.
To minimize disruption and noise, materials were barged to the island and some construction done at night, with lights pointed away from residential areas.
First Female Airline Pilot Honoured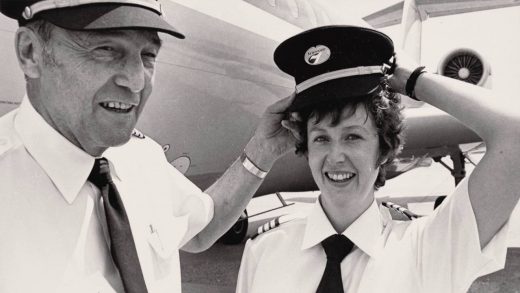 Rosella Bjornson, the pioneering young woman who became North America's  first female airline pilot in 1973 was honoured at the Alberta Aviation Museum last weekend.
Bjornson took the right seat of a Transair Fokker F-28 on a flight from Thompson, Manitoba to Winnipeg in April of 1973.
She became a captain at Canadian Airlines and retired in 2004 after commanding aircraft for Air Canada and its short-lived budget spinoff Zip.
Bjornson has earned numerous honours from women's groups for her pioneering career and while there were challenges and obstacles, Bjornson told the CBC she just rolled with them, like the time a Toronto ground controller didn't think he'd heard her right.
"The ground controller had never heard a woman's voice before on a big airplane and asked if I had my seat belt too tight," Bjornson said.