Scroll Down to see all of this week's updates
Windmill Project Quashed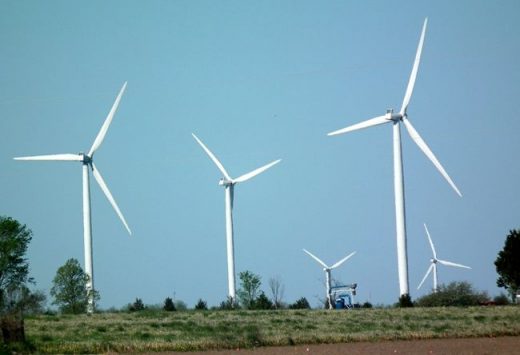 Ontario's Environmental Review Tribunal has ruled against a plan to build eight wind turbines within the operations area of two southern Ontario airports.
The tribunal, which was the last jurisdiction that could prevent the project, agreed wholeheartedly with submissions from aviation experts that the windmills would "endanger human health" if an airplane hit one.
The tribunal also found the windmills would kill some endangered bats that live in the area of Collingwood and Stayner Airports.
The objections were made by expert witnesses who were funded through the Canadian Owners and Pilots Association's (COPA) Freedom to Fly Fund and the fight cost the organization $175,000.
COPA CEO Bernard Gervais said it's fights like this that the fund was created for but the windmill battle cut deeply into its reserves.
Nevertheless the organization is happy with the result, which should mean that the windmill project cannot go ahead.
The project, by wpd Fairview Wind Incorporated, was approved by the Ontario government under the Green Energy Act, which contains clauses that protect such developments from being rejected at the local level. All the local governments in the area opposed the windmills and also took part in the environmental review.
Transport Canada also declined to act, even though it could have used its federal clout to quash the project.
Northern Lights Awards Presented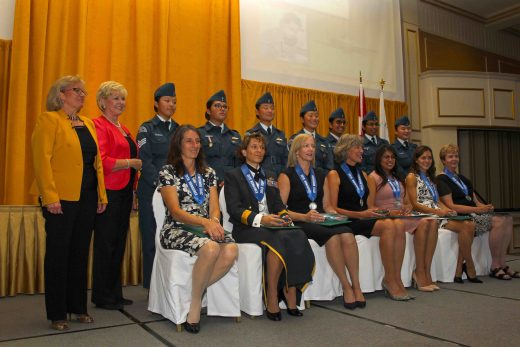 Seven women with distinguished or burgeoning careers in aviation were honoured at the eighth Elsie MacGill Northern Lights Award gala in Vaughan, near Toronto.
Sponsored by Porter Airlines, the evening began with keynote speech by Kanata-Carleton MP Karen McCrimmon, who had 26 years of distinguished military services including as the commanding officer of 429 Transport Squadron at CFB Trenton.
Lt. Col. (retired) McCrimmon kept the packed audience riveted with accounts of her military career, including some candid stories about working with her male military colleagues and concluding with the benefits of encouragement she received and shared with her friends during her career.
Each award winner was then introduced to more than 300 guests in attendance with a summary presentation of their diverse achievements. Each spoke to the audience themselves, sharing their experiences breaking through the gender barriers in a traditionally male-dominated aviation/aerospace industry.
Some light-hearted and entertaining stories were shared that not only illuminated the talent and determination that led to success in their careers but also their warm personable side as mothers, wives, sisters and daughters. Each woman spoke fondly of the strong support from their families and friends as key to their success.
The 2016 Elise MacGill award recipients are: Brigadier General Lise Bourgon for flight ops/maintenance; Dr. Sylvie Beland for government; Jolene Mahody for business, Dr. Catherine Mavriplis for education, Rosella Bjornson for pioneer, Holly Johnson and Navreet Saini for Rising Stars.
Skymaster Restoration Bid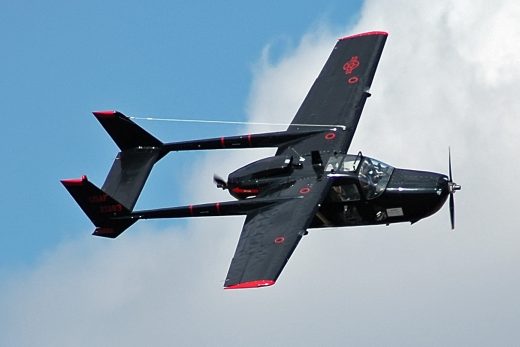 A Waterloo aviation enthusiast has tracked down an airframe in Nanaimo that was significant in his youth in Pakistan.
Now Sameer Haqqi is hoping the local aviation comunity will help him restore the stripped shell of a Cessna 337B Super Skymaster to flying condition in memory of his father's ties to the aircraft in their native Pakistan.
Haqqi, who is a few hours away from earning his private licence, spent years looking for the aircraft, which was purchased by the Pakistani government in 1968. His father flew it as a training aircraft before he joined a Saudi Arabian airline.
Pakistan sold the aircraft in 1999 and it ended up in Nanaimo as a parts salvage aircraft and it's given up virtually all its useable parts in that role
Haqqi told the Waterloo Chronicle he's hoping to raise $175,000 to rebuild the aircraft.
"Basically what we want to do is restore the aircraft to flying condition, and while restoring it, give the community a chance to come out and see the airplane and talk to us, and we can have them work on the plane," said Haqqi.
Canadian Wins Wipaire Scholarship
A young Saskatchewan pilot is the first Canadian recipient of the Ben Wiplinger Memorial Seaplane Rating Scholarship.
Colin Fink is just out of high school but is already building time on a Cessna 170 to become a bush pilot. The seaplane rating supplied by the scholarship will definitely help him achieve that goal.
Frank has worked for outfitter wrangling horses and raising show cattle to fund his aviation passion and he's working on his commercial ticket.
The $1,500 scholarship is handed out annually in honour of Wipaire founder Ben Wiplinger.
"My dad wouldn't have imagined what we have grown into," said Bob Wiplinger, Ben's son and CEO of Wipaire.  "We started building floats in 1960 in order to get the quality of product we would want on our own airplanes, and that is how we still build products today.  We're proud to give back to the seaplane community and create the next generation of seaplane pilots."
The two other winners were Dawn Cook, of Minnesota and Dr. Kimberly Kanapeckas, of South Carolina.
Chuck Wiplinger, Bob's son and Ben's grandson and President/COO of Wipaire, added, "Once again, we were humbled by the number and quality of the applicants we received.  It's rewarding to be able to grant some of these pilots the ability to achieve their dreams of seaplane flying.  As always, it was a tremendous challenge to select the winners, and we encourage applicants to try again if they weren't selected this year."