Scroll Down to see all of this week's updates
P&WC Unveils PurePower Engine
Pratt & Whitney Canada used the National Business Aviation Association convention in Orlando to unveil its new PW800 series engines, the largest and most fuel efficient designs the company has ever built.
The big engine was displayed beside a PW600, which is used to power aircraft like the Cessna Mustang and Eclipse 550 and demonstrated the range of engine options available from the manufacturer.
"We now have an engine in the 16,000-pound-thrust category," CEO John Saabas told a crowded news conference at the company's booth in the Orange County Convention Center.
The unveiling comes on the heels of the announcement that the engine, which offers double-digit fuel savings, has been picked by Gulfstream to power its latest generation G500 and G600 aircraft.
Saabas said certification is close and flight testing has gone well with the engine.
CBAA Promotes Canadian BizAv at NBAA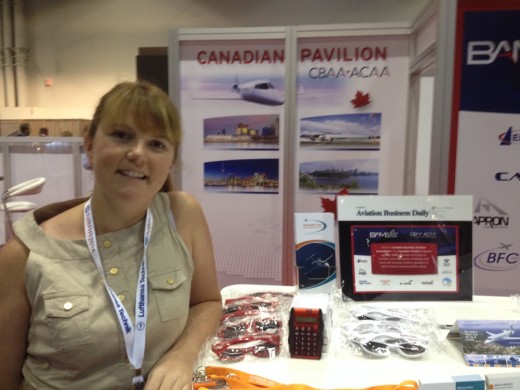 The Canadian Business Aviation Association manned a good-sized booth at the National Business Aviation Association convention in Orlando.
CBAA and several of its members set up an informational booth inside the main hall at NBAA and one of the main focuses is to try to encourage people to attend CBAA's annual show, which is being held June 16-18, 2015 at Saint Hubert, near Montreal.
Manning the booth was Aime O'Connor, from CBAA's main office in Ottawa.
CBAA celebrated record attendance at its 2014 show in Edmonton and is hoping its "Canadian Pavilion" at NBAA will boost interest in the Montreal show.
Beaver Gets Personal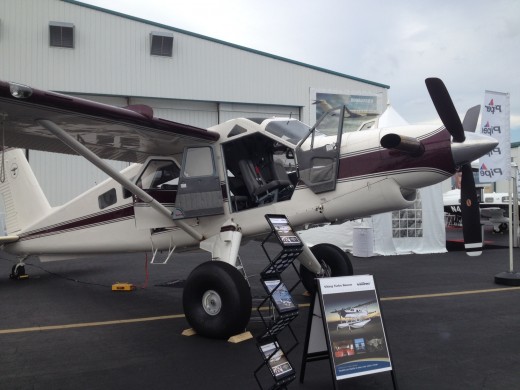 Viking Air, of Victoria, is well known for its resurrection of the Twin Otter and it attends NBAA primarily to promote that product, which, curiously enough, hasn't attracted much interest in North America.
However, Viking got its start rebuilding Beavers and Otters and converting them to turboprop power. There are dozens of those aircraft flying all over the world, usually in hard-working roles as bush and utility aircraft.
But one of the trends in recent years at NBAA has been for manufacturers of personal aircraft to display their wares in hopes of attracting the attention of the well-heeled crowd that attends NBAA.
So this year Viking flew what might be the ultimate personal aircraft for the outdoorsman to Orlando.
The turbo Beaver is fully tricked out with tundra tires, a comfortably utilitarian interior and nice panel. And where fuel barrels or other freight might have been carried in another life, Viking has loaded sports gear, including a couple of mountain bikes to show prospective customers the possibilities.
Lightly loaded as it would likely be on personal missions, the turbo Beaver in this configuration would need hardly any room to land and take off and could carry enough gear for a long stay wherever it did land.
Flying Colours Lands Big China Deal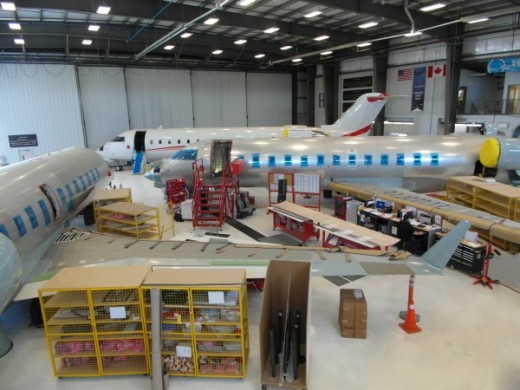 Flying Colours, of Peterborough, is entering a joint venture with Sparkle Roll Technik, of China, to do aircraft modifications and maintenance in Linyi City in Shangdong Province.
The first deal is to build eight VIP versions of CRJ-200 aircraft. Sparkle Roll will find the airframes and Flying Colours will do the mod work at its Peterborough facilities. The deal is worth millions of dollars and it will take the Peterborough facility about eight months to do each plane.
As the aircraft are being refitted, technicians from China will be trained in the installation of the furnishings and equipment in each plane. After this initial run trains the Chinese technicians, the work process will shift. The Peterborough plant will manufacture the interiors and they'll be installed, under Flying Colours' supervision, in the Linyi hangar. Flying Colours will also do all the government paperwork.
"We are excited about working with [Sparkle Hill] and believe we are one of the few international companies to have formed such an agreement with a Chinese aviation company. We are looking forward to a long and prosperous relationship," said John Gillespie, President Flying Colours Corp.