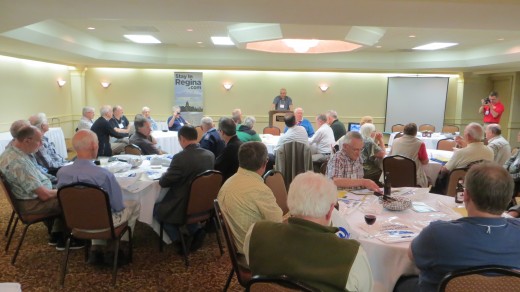 By Ted Delanghe
The 51st National Convention of the Canadian Aviation Historical Society (CAHS) was held from June 4-7 in Regina, with the theme being "Canada's Aviation History – the View from the West". The agenda included two full days of presentations on the people and places that are such a colourful and noteworthy part of our country's history. Tours of 15 Wing Moose Jaw, 2 Canadian Forces Flying Training School, and the Moose Jaw branch of the Western Development Museum, home to more than a dozen historical aircraft and the Vintage Aircraft Restorers group, rounded out the activities.
The lineup of speakers and presentations covered a lot of ground, with one of the primary areas of focus being the British Commonwealth Air Training Plan, including John Higenbottam's presentation "Relief Landing Fields of the BCATP", and Bill Zuk's illustrated talk on "For the Moment", a 1993 feature film on the BCATP.
A second theme was Saskatchewan aviation, with Deana Driver's  entertaining "Walter Williams, a Pioneer Prairie Airman"; Linda Kort's presentation on her father Maurice Falloon's year in Burma with the RCAF; Joel From with a detailed look at the RAF air training base at Caron, Saskatchewan; and Richard Mayne's nostalgic talk on the venerable C-119 Flying Boxcar. Expat Reginan Bill Cameron recounted his 38 year career with Canadian Pacific airlines, and John Chalmers delved into Canada's Aviation Hall of Fame with a focus on Saskatchewan.
One particular session of high interest was "The Avro Arrow — and Why Dief Made the Right Decision", by University of Saskatchewan Professor Russell Isinger. It explored the many myths and truths covering the decision to cancel the program, which today still stands as one of the most controversial issues in Canada's aviation history.
The three-day event closed with an evening banquet on  June 7, with guest speaker Todd Lemieux discussing Vintage Wings of Canada and its mission to restore and fly classic aircraft significant to the early history of powered flight, and to inspire and educate future generations about the historical significance of Canadian aviation heritage.