An RCAF student pilot and his or her instructor ejected from a CT-156 Harvard II training aircraft near CFB Moose Jaw Friday. The aircraft apparently had a landing gear problem and, after an aircraft was dispatched to do a visual inspection, the decision was made for the two to eject rather than attempt a a landing.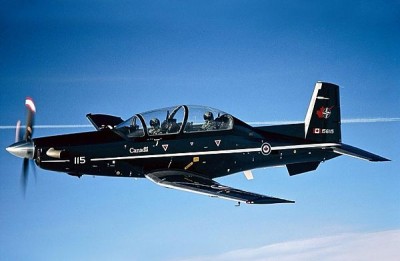 Capt. Tom Edelson told reporters the ejection and subsequent rescue were orchestrated and, other than the destruction of the airplane, there were no serious injuries or property damage. "This is actually a very good outcome," Edelson said. "Both people got out of the plane. You can buy more planes, but you can't buy more people."
The aircraft are owned by Bombardier, which contracts them to the RCAF.
Identities of the student and instructor were not released. The student was on his 10th lesson in the Harvard and the instructor had about a year of experience in that role. The result was a textbook "controlled ejection."
"When you have time to make a controlled ejection, you point the plane in a safe, uninhabited direction," he said. "And the plane flew for a little bit longer before impacting in an empty field."
The two crew were picked up by rescue personnel shortly after touching down under their parachutes and evaluated by medical staff.