Scroll Down to see all of this week's updates
CSeries Back in the Air

Pratt and Whitney says it has fixed for good the fault that caused an uncontained engine failure on a Bombardier CSeries test aircraft in May, delaying flight testing by more than three months.
"The CSeries engine issue is resolved," Pratt and Whitney spokeswoman Sara Banda told the Montreal Gazette. The incident originated as a reault of an oil system issue. We do not foresee any further issues with the engine."
Bombardier flew one of the test aircraft at Mirabel last Sunday and two of the other three test aircraft are expected to fly by Sept. 15. The fourth aircraft, which had the engine failure, is undergoing repairs to damage caused by the fire followed the engine coming apart.
Assuming the aircraft all get back in the air more or less on that schedule there is a chance Bombardier will meet its revised delivery schedule and put aircraft in service by the end of 2015. To do that, each of the test planes will have to fly 40 hours a month.
Bombardier spokeswoman Marinella de la Barrera said the resumption of flight tests should result in the firming up of some potential orders.
"So the momentum is still there, the interest is of course still there and we do believe that some of these customers that were taking a wait and see approach will be stepping up," she told CTV.
Canadian UAV in Smithsonian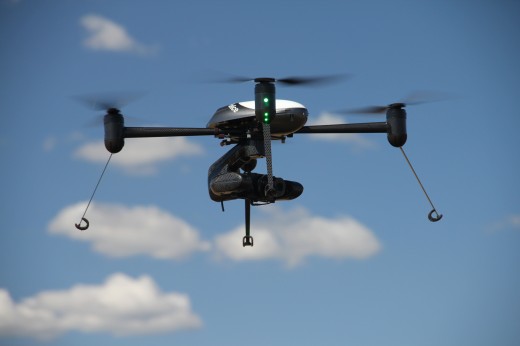 A Draganflyer X4-ES, made in Saskatoon, has become the first unmanned aerial system to gain a place in the Smithsonian Institution's National Air and Space Museum in Washington, D.C.
The little quadrotor was used in the first documented life-saving search and rescue mission involving a small unmanned aerial system.
It was operated by the RCMP in the successful search for a driver who was injured in a car crash and wandered disoriented into the woods the night of May 9, 2013. A quick ground search didn't locate the young man so the newly-created UAS unit was called in. It quickly found his heat signature and searchers located him while Cpl. Doug Green, who had been recently trained in the UAS's operation, was changing the batteries for a second sweep.
The incident also caught the attention of the producers of the Katie talk show hosted by Katie Couric on ABC. Green and the little UAS appeared on a segment of the show.
A few weeks after the Smithsonian presentation, a Draganflyer featured in the rescue of a family that got lost on a hike in Nova Scotia last weekend. RCMP found the mother, father and daughter a short time after it was spotted by the UAS's camera.
McLeod On the Podium in Fort Worth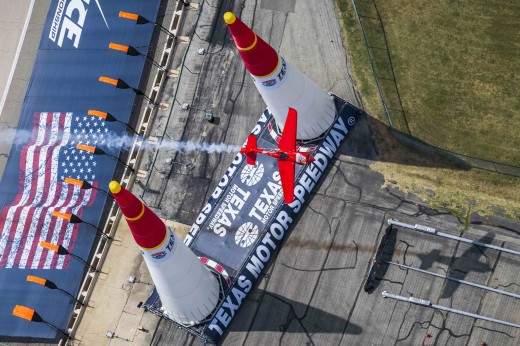 Canadian Red Bull Race pilot Pete McLeod put in another strong performance on a hot and humid Texas afternoon for his second third-place finish of the 2014 series. France's Nicolas Ivanoff came first and Britain's Nigel Lamb was second.
"I went as fast as I could out there today without risking too much. I flew really consistently all day long and went all out in the Final 4. I didn't leave anything on the table so I'm happy," he said. Mcleod's podium finishes and three pole position qualifying wins have established him as one of the top competitors in the field.
McLeod's aggressive flying style leaves no room for error, and today it paid off for the youngest pilot in the Masters Class.
The race in Fort Worth, where some 40,000 spectators witnessed the weekend action, was one of the most exciting this season. There were 45 pylon hits during the two days of action-packed training on one of the most challenging tracks ever with its tight turns and difficult stadium wind conditions.
With improved wind conditions on Sunday, there were no Race Day pylon hits as the pilots expertly sped through the track at speeds of nearly 370 km/h pulling up to 10G. Heat was also a factor as temperatures soared into the high 30s C.
The overall Red Bull Air Race World Championship battle has tightened dramatically after six races. Paul Bonhomme, of the U.K. moved ahead of Hannes Arch in the overall lead on 45 points thanks to his fifth place finish, while Arch, who finished eighth, slipped into a two-way tie for second place overall with Lamb on 44 points. McLeod slipped to 6th just two points behind Ivanoff.
The next race of the eight-stop championship will be held in Las Vegas on October 11-12.
Results: 1. Nicolas Ivanoff (FRA), 2. Nigel Lamb (GBR), 3. Pete McLeod (CAN), 4. Matthias Dolderer (GER), 5. Paul Bonhomme (GBR), 6. Matt Hall (AUS), 7. Martin Sonka (CZE), 8. Hannes Arch (AUT), 9. Yosihide Muroya (JPN), 10. Kirby Chambliss (USA), 11. Michael Goulian (USA) 12. Peter Besenyei (HUN)

World Championship Standings: 1. Bonhomme 45 points, 2. Arch 44, 3. Lamb 44, 4. Hall 28, 5. Ivanoff 27, 6. McLeod 25, 7. Dolderer 14, 8. Muroya 10, 9. Sonka 10, 10. Besenyei 6, 11. Chambliss 5, 12. Goulian 0.
Vancouver Firm Wins F-35 Contract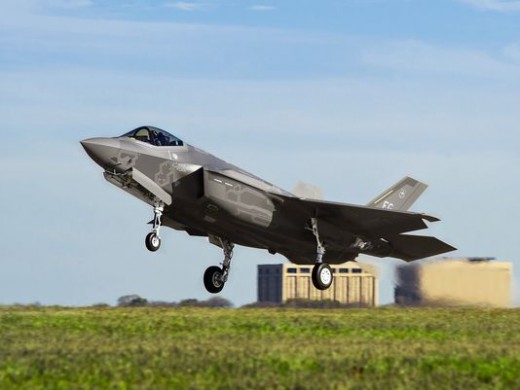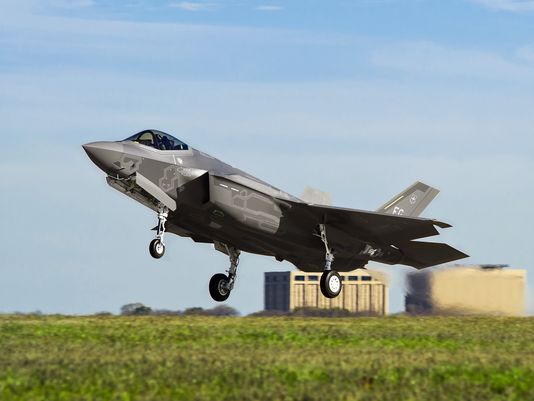 Vancouver-based IBC Engineered Materials has won a significant contract to build the gimbal housing for the F-35's Electro-Optical Targeting System.
The housing must be lightweight and strong and Lockheed Martin needs the housing to be made of a beryllium/aluminum alloy. It's an exotic material that requires special manufacturing processes and that's where IBC comes in. The company has developed a casting process for the metal and calls the new process "disruptive" in its application to aerospace manufacturing.
"Until recently, the only option for manufacturing aerospace parts made with bryllium aluminum alloys was machining, which is costly, time consuming and labour intensive," said Anthony Dutton, CEO of IBC Advanced Alloys, the parent company of IBC Engineered Materials. He said the casting process delivers parts that require only finishing machining and are much less expensive to produce.
The company says the material is substitute for a variety of materials in aerospace applications and the F-35 contract is validation of its use.