Scroll Down to see all of this week's updates
Battle of Britain Pilot Goes Flying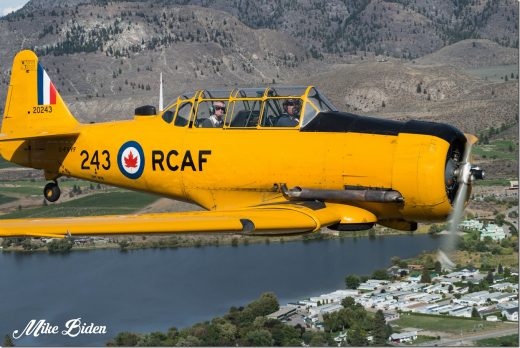 Canada's last surviving Battle of Britain pilot got reacquainted with an old friend Sept. 10, the day before celebrating his 100th birthday.
The former fighter pilot went for a 20-minute flight in Dave Watson's Harvard during the Western Warbirds Flight Fest in Oliver, B.C.
"It was a little bumpy," he said after a team effort lifted him out of the Harvard rear cockpit and put him back on the ground.
Hart, who did part of his training in a Harvard, said the distinctive sound of the Harvard was familiar to him as he answered questions from a curious crowd of onlookers after he was back on the ground.
Hart last went flying three years ago when Kevin Maher took him up for open cockpit aerobatics in a Stearman owned by Trevor Skillen.
Watson, who flies his Harvard as part of the Yellow Thunder aerobatic team, said Hart clearly enjoyed himself and it was an honour for him to do the flight.
Hart, who grew up in Sackville, Nova Scotia, got his pilot's licence in Halifax in 1938. He volunteered for the RAF and was flying Lysanders when Hitler's war machine turned its sights on England. He was retrained on Spitfires (in five days) and spent the rest of the war flying fighters in the U.K., Burma and Italy where he ended his flying in a Mustang.
Vintage Fleet Damaged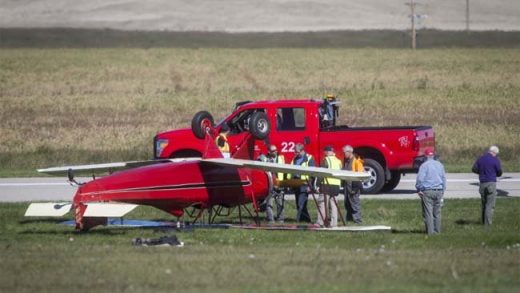 A pristine 1930 Fleet Model 2 was substantially damaged in a landing accident at Springbank Airport in Calgary Sept. 13 but its owner and pilot escaped injury.
Geoff Pritchard said he lost control of the bright red biplane just after landing and the aircraft left the runway and flipped.
"It left the concrete runway and then hit the abutment on the grass, and I think that's what tipped it over. It was a very slow speed, it's just unfortunate that it has done a fair bit of damage," he told Postmedia News.
Pritchard was flying from nearby Chestermere and had planned to go on to his home in Vernon, B.C.
Witness Bashar Hussein said winds were variable at Springbank at the time of the mishap.
Historic Homebuilt Back in Canada
A tiny homebuilt that was the subject of a documentary is safe at the Canadian Bushplane Heritage Centre in Sault Ste Marie after an unusual trip from Vermont.
The 18-foot-long aircraft's fuselage made the 1,300-km journey strapped to the roof of a Toyota Echo and the wings followed on a trailer.
While the MacGregor isn't really a bushplane, museum curator Todd Fleet said the well-traveled aircraft epitomizes "the spirit of bush flying."
The aircraft was built in 1960 by aircraft engineer Wilmer MacGregor and was sold to Blake James, who worked for the National Film Board. A documentary was made about James and his trips to the West Coast by director Bill Mason and the film earned an Oscar nomination.
Homebuilts were not common in the 1960s and the little plane became well known. It passed through several owners after James owned it and when it came up for sale on eBay earlier this year James bought it back for $7,500.
He donated the plane to the bushplane museum.
Disruptive Passengers Plead Guilty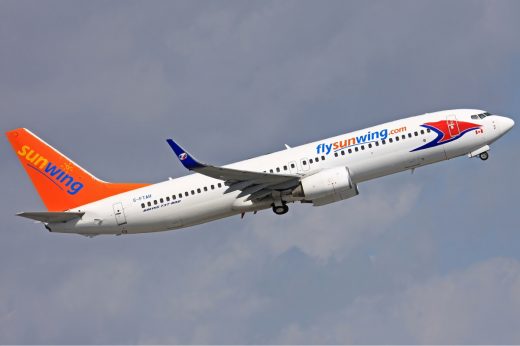 Two women whose antics aboard a Sunwing flight to Cuba prompted a fighter escort back to Toronto have pleaded guilty to criminal charges relating to the incident.
Lilia Ratmanski entered her pleas on charges of mischief and smoking on an airplane July 7 was joined by her travel mate Milana Muzikante on Sept. 9. They will be sentenced Nov. 25.
The drunk women lit a cigarette in bathroom and triggered a smoke alarm. When confronted, the women fought cabin crew and made a threat against the aircraft.
That triggered a 180 by the flight crew and the fighter escort.
Both women were nursing students at the time.
They were released on bail in 2014. They are unlikely to go to jail for their antics. The Crown is seeking a suspended sentence while their lawyers are arguing for conditional or absolute discharges.
Airlines customarily try to recover the costs of such incidents through civil litigation, however.