Press Here to Run the New SkyMate in its own window
OR
Press Here to run it inside Canadian Aviator.
The new SkyMate is designed with the Canadian Pilot in mind. It was created exclusively for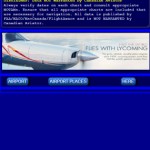 Canadian Aviator by Sunset Bay Technologies and gives the pilot a comprehensive information and Planning Tool.
We have incorporated information from some of the best aviation sources along with a very sophisticated application to give you the type of  detailed information you need in a simple to use format.
The app runs well on your PC or Mac as well as most smartphones and tablets.  Run our Beta Version by using this https://teecup.ca/CourseManager/js-travelmate-apq-133-apdetail-202.htm?airportinfo  web address. There is no need to download an app.
Easily select any Canadian Airport and Instantly get:
Nav Canada Airport Charts
FBO Information (Flightaware)
Live Airport Traffic Map(Flightaware)
Satellite view of the Airport(Flightaware)
Driving directions to the Airport
 Flight Information(Flightaware)
Weather Information (World Weather Online)
Instant Weather Forecast
Google the Airport for even more information
Once you have found the Airport just switch over to Airport Places mode and
Search for all sorts of different places (restaurants, car rentals, hotels..etc
If we didn't think of what you are looking for use the Custom Command to find any place you can think of.
Once found just touch the listed item and get detailed information about the chose location along with map.
You can then choose to Phone the place, Google it and press Go There to get turn by turn directions to the chosen place through your smartphone's navigation system.
You can also press the HERE mode button to get Places information about venues that are near you Current location.  Please ensure that you allow your device to track your current location when it asks.
And Finally we have provided an instant …always visible information bar at the bottom of the screen so that you can alway quickly find out useful information.  At present instantly find out:
Lottery winning numbers (you never know)
Local Gas Prices
Arrival and Departure information for the currently chosen airport
the Weather Forecast for your current location
Weather Radar view of your current location
Instant access to TravelMate Golf GPS with over 20,000 golf course mapped out for you.
Movie Listing for your current location
Instant Search…to allow you to quickly do searches for your current location or the current selected airport.