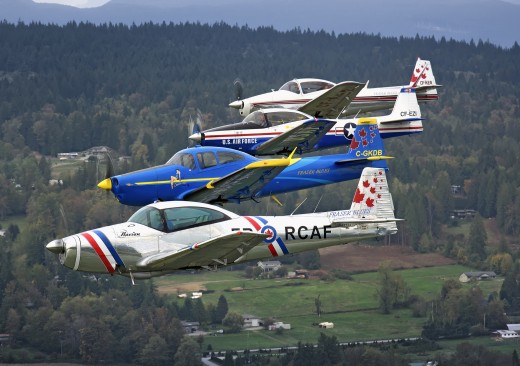 George Miller, the former team lead of the Snowbirds and Aviation Hall of Fame member marked his 80th birthday and  60th year of continuous flying on Oct. 6 in a most familiar way.
He took a hop around the patch at Langley Airport in B.C in his uniquely liveried Navion with his flying buddies, the Fraser Blues.
Miller founded the Blues after he retired from the Canadian Armed Forces and the team has performed at hundreds of air shows in B.C. It doesn't perform a regular show schedule but the four members of the team still get together for performances and practice.
The flight on Oct. 6 was practice run and photo flight.
Miller spent 35 years as a military pilot, flying F-86s, CF-104s and as a member of the Golden Hawks. He later became team lead with the Snowbirds.