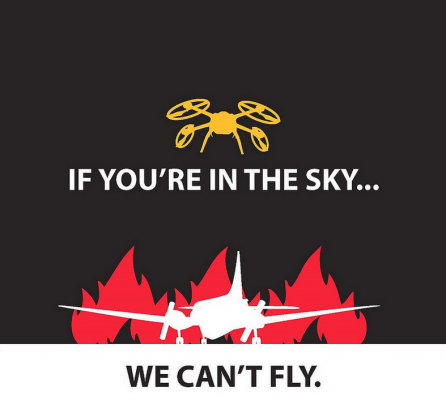 B.C. Premier Christy Clark says governments have to get a handle on keeping unmanned aerial systems from interfering with firefighting efforts.
Earlier this week the presence of a small UAS forced the grounding of 13 aircraft fighting a dangerous forest fire threatening homes and businesses in Oliver, B.C.
The aircraft remained grounded for five hours while ground crews were left to tackle the out-of-control fire on their own.
Clark said governments need to tackle the issue. "Keep them out of the airspace when we're fighting fires, keep them out of the airspace at airports," Clark said. "It's only just becoming a real problem, and I think unless we get ahead of it as governments in this country, it's only going to become a bigger problem."
B.C. has started a public education campaign urging people to keep their UAS away from fires. Posters depicting an air tanker on the ground while a UAS flies over a fire with the message "If you're in the sky, we can't fly" on it is now posted in fire zones.
Clark's comments ironically come as the comment period for new regulations governing the use of unmanned aircraft in Canadian airspace comes to a close. The Notice of Proposed Amendment by Transport Canada was issued May 28 and the comment period closes Aug. 28.
The changes were announced by Transport Canada last November and generally allow commercial use of unmanned aerial systems without restriction in rural areas away from airports. Permits are required for use in urban areas.
But rules are already in place to keep UAS and all other aircraft away from forest fires. All forest fires get an automatic no-fly zone of five nautical miles so it wasn't an absence of regulation that resulted in the grounding of the air tankers. Clark also appealed to people's common sense in her news conference.