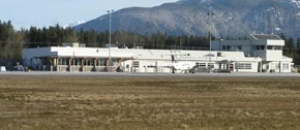 The Canadian Air Transport Security Authority has apologized to a Terrace, B.C. man after he was told he couldn't board his flight because there were no male security screeners on duty to give him a pat down.
Robert Hart has a titanium hip and always sets off the metal detector when he flies commercially and he told the screeners about it as he prepared for a flight to a family wedding in Ontario. He was not prepared for the female screener's response.
"And the words that came out of her mouth were, 'You're not going to be able to board this flight. You can't take this flight. You have to be patted down by male CATSA staff and one is not available,'" Hart told CBC News.
He offered to be patted down by a female CATSA member, a police officer or even an Air Canada employee but the screener was having none of it.
"I'm sorry you're just going to have to book another flight. We're not prepared to negotiate at all on that," he quoted the officer as saying.
A CATSA official told CBC that there are procedures in place for circumstances like this and Hart should have been permitted to board.
The Terrace Airport has only two male screeners so it's a situation that is bound to arise from time to time.