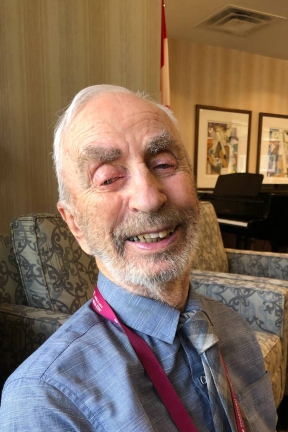 Bill Peppler, a towering figure in Canadian aviation died April 1 in Ottawa at the age of 95. Peppler was a founding member of the Canadian Owners and Pilots Association and served as its general manager for 39 years. He was also the founder of Aviation Publishers, whose pilot training textbook, From the Ground Up, is the leading publication of its type in Canada. Peppler's son, a regular contributor to Canadian Aviator and now the CEO of Aviation Publishers wrote this obituary for his father.
Aviation Publishers regrets to have to announce the passing of its founder, William "Bill" Peppler. A long-time resident of Ottawa, Bill passed away at the Ottawa Hospital's General Campus on Thursday, April 1, 2021, in his 96th year. 
Born in Hanover, Ontario, on June 29, 1925, Bill was a man with a diversity of talents. He showed a great inclination towards music early in his life. He played many instruments, and was particularly talented with his saxophone and clarinet. He performed as a professional musician in his late-teens and early-twenties, and toured around Southern Ontario as part of a popular dance band orchestra playing big band music of the era. While training in the army towards the end of WWII, he continued with his musical endeavours, signing up to become an army bandsman where, most notably, he entertained troops returning from overseas services. His love for music never wavered; big band music was forever dear to him for the entirety of his life. 
Greater than his passion for music, however, was that which he had for flying. He was drawn to the sky by the early exploratory years of aviators who instilled in him the spirit for freedom and adventure that aviation brought. He knew from an early age that aviation would be his career path. That path is the one he duly followed. After working his way through flight training – paid for by the income he earned from performing as a musician – he became an instructor himself, working as the latter at Ontario's Goderich Airport, where he also served as the facility's general manager. 
He also flew endless hours as a barnstorm pilot during the post-WWII period, giving thousands of rides to people who'd never previously sat in an airplane. During this same time, he earned his license as an Aircraft Maintenance Engineer as well as his Air Transport Pilot license, thus becoming one of a select group of individuals with both qualifications. A chance meeting opened the door to a job opportunity as a bush pilot, the latter select group of aviators still actively opening the vast regions of Canada's north and wilderness areas. Bill applied for the job, was hired by legendary Canadian aviator, "Weldy" Phipps, then started a bush flying career with the legendary Spartan Air Services. 
Bill flew thousands of hours with Spartan throughout the 1950's, often in perilous conditions, doing aerial surveillance and magnetometer work, and ferrying supplies and personnel to research outposts and rural communities. In the course of his flying duties, Bill accumulated his vast pilot-in-command experience in aircraft such as DC-3's, DH Beavers, and Avro Ansons. 
During the 1950's, Bill was assigned by Spartan to act as the Base Manager of Operations at Fort Churchill, where he was responsible for coordinating a fleet of aircraft assigned to the role of supporting the creation of the Defense Early Warning (DEW) Line across Canada's north during the Cold War. It was a critically important task for the time. 
After seven years and thousands of hours of the frequently high-risk aerial work with Spartan, he settled into working as the general manager for the Canadian Owners and Pilots Association, (COPA), a position he held with endless enthusiasm for 39 years. Co-incident with his long COPA tenure, he quietly went about developing the well- regarded aeronautical ground school textbook, From the Ground Up, with which he worked tirelessly with his wife, Isabel, the title's editor and publisher. 
Originally authored by his friend and aviation colleague, Alexander Forsyth "Sandy" MacDonald, who regularly sought Bill's advice regarding content, Bill's undertaking of the role as From the Ground Up executive editor solidified the legacy of the textbook's creator and cemented the publication as one of the most recognizable titles in aeronautics. 
Following his retirement as COPA General Manager in 1996, Bill served as the Canadian representative for the Aircraft Owners and Pilots Association (AOPA). During this five-year period, he also served as the official representative of the International Aircraft Owners and Pilots Association (IAOPA) at the International Civil Aviation Organization (ICAO) in Montreal. 
Bill is a recipient of one of Canada's most prestigious aviation awards, The Trans-Canada McKee Trophy. Presented by the Canadian Aeronautics and Space Institute (CASI), and awarded annually since 1927, The McKee is awarded for outstanding achievement in the field of air operations, and recognizes "a sustained high-level of performance" in the advancement of the use of aviation. The Trophy resides at Canada's Aviation Hall of Fame in Alberta, Canada. In a lifetime during which he amassed over 10,000 hours of flying time, Bill Peppler spent his working career at the service of the aviation community. 
Bill's love of airplanes knew no bounds. He flew and/or owned Aeronca Chiefs and Champs, Pipers Cubs and Cherokees, Cessna 150s and 172s, Bellanca Cruisairs, De Havilland Tiger Moths and Dragon Rapides, to name a few. He's even owned a 1929 Fairchild 22. Most cherished of all was his ownership of early-model Beechcraft Bonanza's of which he owned two. And, until very recently, he continued to own a Cessna 150 with which he loved to tinker for endless relaxing hours at his Rockcliffe Flying Club home airport in Ottawa, Ontario. 
As much as aviation was his great passion, family and friendships were his greatest passions above all. He will be fondly remembered for his engaging smile, his bountiful enthusiasm, the warmth of his personality, and his unworldly positivity. He will be dearly and profoundly missed by all those who knew him. 
Bill is survived by his daughter Carla, and sons Rand and Graeme. He is predeceased by first wife Isabel, who passed away in 1998. A private family service was held earlier this week.