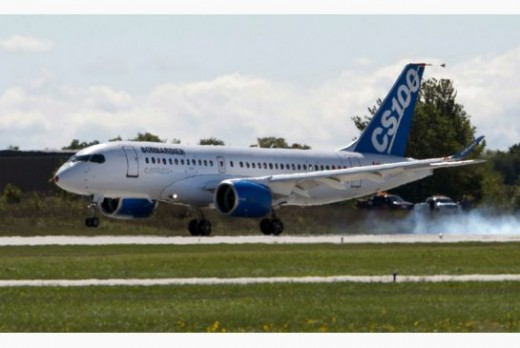 Bombardier executives told an airline conference Wednesday the company is "100 percent committed" to the CSeries and continuing its aggressive certification program.
At the European Regions Airline Association meeting in Berlin, Ross Mitchell, Bombardier's VP of commercial aircraft told a media conference the aircraft is 90 percent through certification. "The CSeries is coming to market and the airplane will be here soon. We are getting further and further with the certification," he told the media.
It was the company leadership's first public appearance since news last week that it was in talks with Airbus to take over a majority stake of the CSeries program. Those talks ended abruptly when word leaked out and Reuters published a story.
Mitchell didn't want to talk about Airbus, but instead focused on the last stages of certification and a North American tour by one of the CS100 test vehicles. The aircraft will visit 15 Canadian airports and 20 in the U.S. as part of a real-world shakedown.
"We are now operating the aircraft like an airline would operate it," Mitchell said.
There were also reports that Bombardier is in advanced discussions with some American airlines about the new airliner, whose development has strained the company in the past year. Signing a major carrier would give a much-needed boost to the program.