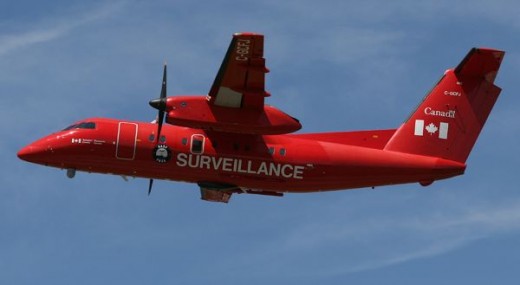 A Canadian aircraft using a Canadian-made surveillance camera brought a speedy end to one of the largest manhunts ever undertaken in Canada last week.
Less than 30 minutes after taking off from Moncton Airport late last Thursday night, Transport Canada's national Aerial Surveillance Program Dash-8's crew had located Justin Bourque, the 24-year-old suspected killer of three RCMP officers 30 hours earlier. According to the Globe and Mail TC made the airplane available to the RCMP earlier in the day to help bring to an end a manhunt that forced the virtual lockdown of Moncton and 
Using the L-3/Wescam MX-15 surveillance camera (designed and built by L-3/Wescam in Burlington, Ontario) mounted under the nose, the aircraft spotted Bourque trying to hide behind a tree in a wooded area in a residential area of Moncton. Heavily armed police flooded the residential area and a few minutes later Bourque surrendered.
The police apparently knew approximately where Bourque might be hiding and the aircraft crew was able to spot his infrared image clearly and show streaming video to a command centre on the ground. "We're apparently streaming a video that has everyone excited," TC official Brad Mundle wrote in an email released to the Globe and Mail. "We are onto someone hiding in the bush."
The video stream continued, showing emergency response team members surrounding Bourque with guns raised until he finally raised his hands and dropped to the ground.
The aircraft took off at 11:24 p.m., Bourque was spotted at 11:58 p.m. and Bourque was in custody at about 12:10 a.m.