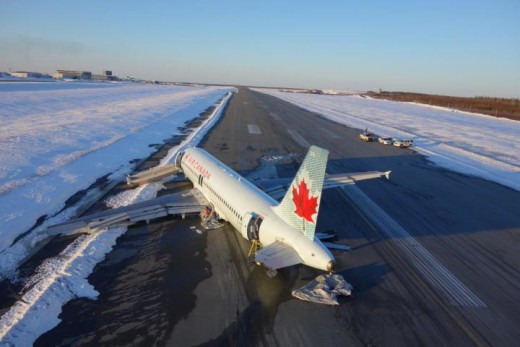 A Nova Scotia law firm has launched a $12 million class action lawsuit on behalf of 133 passengers aboard an Air Canada A320 that crashed at Stanfield International Airport near Halifax in March.
MacGilivray Injury and Insurance Law names Air Canada, the pilots on the flight, Nav Canada and the Halifax International Airport Authority for their respective roles in the undignified end of a rough flight from Pearson to Halifax on March 29.
"Through this claim and the TSB investigation our clients hope to be able to access information about what problems contributed to the crash," said attorney Jamie MacGillivray in a statement. "Our clients believe based on the known facts that there was likely negligence on the part of the Defendants."
The aircraft landed on the localizer antenna, 1,000 feet ahead of the threshold for Runway 05, damaging the airframe and ripping off the landing gear before bouncing and finally stopping about 1,000 feet down the runway. No one was seriously hurt although a few people were kept briefly in hospital.
The suit says NavCanada shouldn't have cleared the flight to land in the wind and blowing snow and should have warned the crew that their approach was wrong.
It also claims the airport authority didn't adequately monitor runway conditions and was operating a runway "with an inadequate instrument landing system." Runway 05 has only a localizer approach while the opposite Runway 23 has a Cat II ILS. Runway 05 was in use because of the high winds.
Air Canada has already given every passenger $5,000 for their inconvenience and other lawyers have said that accepting the money won't prejudice their ability to sue.