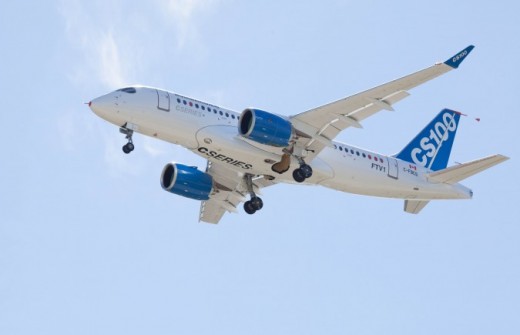 Bombardier's CSeries flight test program moved to the relative anonymity of Wichita, Kansas for the winter and engineers got some work done in the somewhat better weather offered there.
The fourth flight test aircraft is almost ready for its first flight and the other three have accumulated a total of 280 test hours. In an earnings statement issued last week, Bombardier said the aircraft has been cleared for testing in the full speed and altitude envelope, which should increase the rate at which the flight test program proceeds.
It requires 2,400 hours of flight test before certification.
Meanwhile, it looks like Bombardier has sold six CSeries to Libya as it inches toward its goal of 300 firm orders when the aircraft enters service. The Libyan order would nudge the current total to 209 firm orders but there are at least that many options that could be converted, also.
Bombardier has also announced that CSeries aircraft will come with optional factory-installed internet and entertainment systems supplied by Panasonic. The exConnect system is the same as that chosen by WestJet for its aircraft. The system will connect to the passengers' own tablets and phones but most airlines will also rent display devices to those who don't have their own.