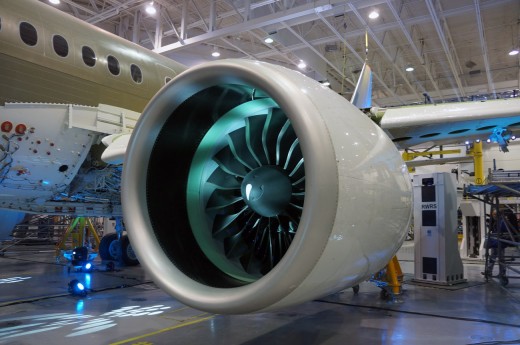 Bombardier has resumed ground tests of some CSeries test aircraft following an encouraging preliminary report on the cause of an engine failure in late May.
It now appears a turbine problem on an engine the company had already flagged as troublesome was the cause of the uncontained failure of the engine according to reports. Neither engine maker Pratt and Whitney nor Bombardier will confirm the actual cause of the failure but both have said it had nothing to do with the gear system that is the heart of the engine and the source of its expected efficiency.
"Now that we have a good understanding of what happened, a procedure is in place that introduces control measures to avoid such events," Rob Dewar, manager of CSeries, said in a statement. "We are working to get back on track and today have resumed ground engine runs to return the [flight test vehicles] to flight test program safely."
The aircraft involved in the engine failure was damaged in the incident and is being repaired.