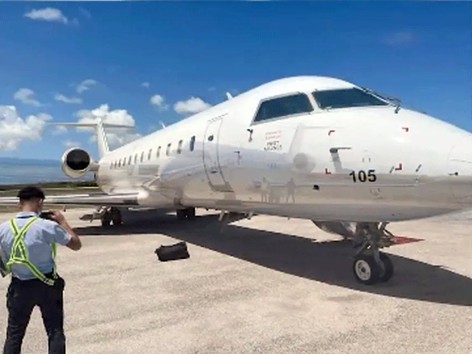 The National Post says Dominican prosecutors are appealing the granting of bail for five crew and seven passengers who arrived there last month in a Pivot Airlines CRJ100. The prosecutors are accusing the Toronto-based airline of using its charter service to smuggle drugs. As we reported earlier, the crew and passengers were arrested after two crew members discovered 210 kg. of cocaine, worth $25 million, hidden in the avionics bay. The crew reported the discovery of the drugs to Dominican authorities and the RCMP and all 12 people associated with the aircraft were arrested and thrown in Dominican jails. They were all released on $23,000 bail last week but not before the local prosecutor tried to have them kept in jail. 
"The (passengers) served as a facade to make it appear that it was a private flight of people who were simply vacationing, when in fact their objective was to transport drugs from the Dominican Republic to abroad, specifically Toronto, Canada," the National Post quoted prosecutors as telling the Altagracia district court. "As a whole, the defendants arrived in the country with the sole purpose of trafficking from the Dominican Republic with a controlled substance." The prosecutors wanted the 12 held in jail for up to a year but the Post said the judge ruled they offered little evidence to back up the claim. The judge granted bail but the12 are not allowed to leave the Dominican Republic.
"It is entirely unacceptable that Canadian citizens could be arbitrarily detained for dutifully reporting criminal activity," the airline told the Post. "Together with international unions representing the crew, we are cautioning Canadian travellers and more than 70,000 airline employees to seriously consider the risks of travel to the Dominican Republic." The airline said going back to jail would be dangerous for the accused because drug dealers in the country now blame them for foiling a lucrative smuggling attempt and there will be some of their associates in the jail.