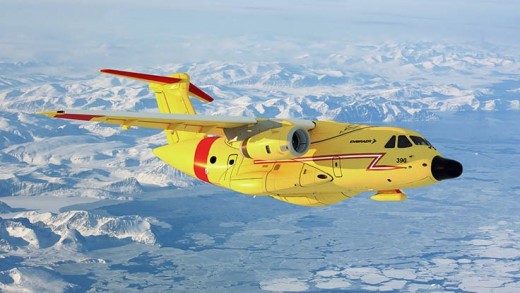 Embraer has confirmed that it is interested in bidding to replace Canada's ancient fleet of de Havilland Buffalo search and rescue aircraft.
The company was actively promoting its KC-390 tactical transport aircraft at a potential bidder at last week's National Business Aviation Association convention in Las Vegas and Embraer had one on  display at the Canadian Aerospace Summit in Ottawa, which was being held at the same time.
If Embraer does decide to join the competition, which has gone on for almost 15 years, it would join Lockheed Martin (C-130J), Airbus (C295) and Alenia (C-27).
The bids were supposed to close Sept. 28 but the federal government extended the deadline to Jan. 16, 2016 because the bid documents are so complex and cover about 4,000 pages.
The KC-390 would be the only jet in the competition. It's about the same size as a C-130 but is faster and can carry slightly more. The C-27 and C295 are both substantially smaller.
Embraer issued a news release last week saying the aircraft is suited to Canada's FWSAR role.
"The KC-390 was designed to perform search and rescue missions in the most demanding environments since its conceptual stage. Therefore we are confident that this aircraft fully meets the operational requirements of the Royal Canadian Air Force," said Jackson Schneider, president and CEO of Embraer Defense and Security.