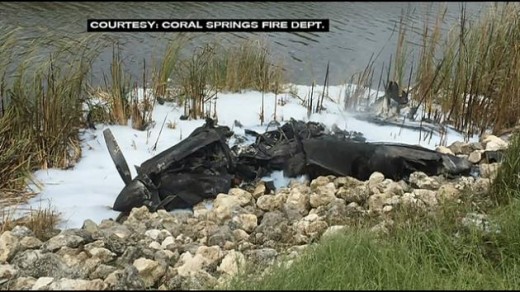 Ken McKenzie, WestJet's former executive vice president of operations, is in hospital in Florida after the Lancair he was flying went down in the Everglades last Sunday.
Ken McKenzie, who left WestJet in 2009 to become the chief operating officer of Spirit Airlines, was on a flight from Fort Lauderdale to Lynchburg, Virginia with his wife Sonia when he reported low oil pressure in the Lancair IVP's engine.
He tried to put the high performance single on a levee in the Everglades and it spun around on landing and caught fire.
Both occupants were able to get out and jumped into a canal to escape the flames. Sonia said her husband has extensive burns. She was released from the hospital in time to help her husband celebrate his 53rd birthday in his hospital room. He is in stable condition in the trauma unit of a local hospital.
McKenzie spent 14 years as a pilot in the Canadian Armed Forces before a variety of civilian aviation jobs landed him in the executive position at WestJet. After leaving WestJet for the 20-month stint at Spirit, he joined Airbus as its COO for the Americas.