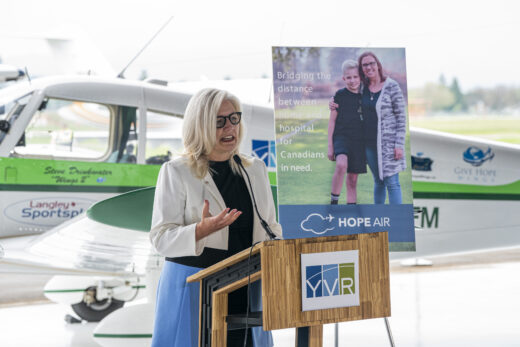 On  May 27, YVR marked this year's Give Hope Wings expedition at co-host Million Air's hangar on YVR's south side. Ceremonies included a cedar brushing of the three GHW participating aircraft which were on hand for the event by members, including an Elder, of the Musqueam First Nation.
Hope Air CEO Mark Rubinstein, who refers to himself as the Chief Hope Officer, opened the event by welcoming participating pilots Dave McElroy (Give Hope Wings founder), Steve Drinkwater (Canadian Aviator publisher) and presenting sponsor Lise Ash (Langley Sportsplex). With the FBO's hangar door open, all three of the pilots' aircraft were framed by the broad opening with airport operations taking place in the background.
Hope Air cancer patient Henry and his mother Bristol of Kelowna were on hand with Bristol telling her and her son's story of how Hope Air made the trip from Kelowna much more bearable and affordable compared to having to drive every three months for four hours each way.
YVR CEO Tamara Vrooman also addressed the attendees, pointing out that YVR has been a partner with Hope Air since 2011, facilitating patients arriving from other parts of British Columbia.
The GHW 2022 Expedition departs from Victoria Monday morning, June 6, and terminates at Saint-Jean-sur-Richelieu, Quebec (near Montreal) on June 24, after having reached Halifax and St. John's.
More information is available at Hope Air's website. To donate, click here to be brought to Steve's fundraising webpage where a tax-deductible donation to Hope Air can be made. Tax receipts are issued immediately.