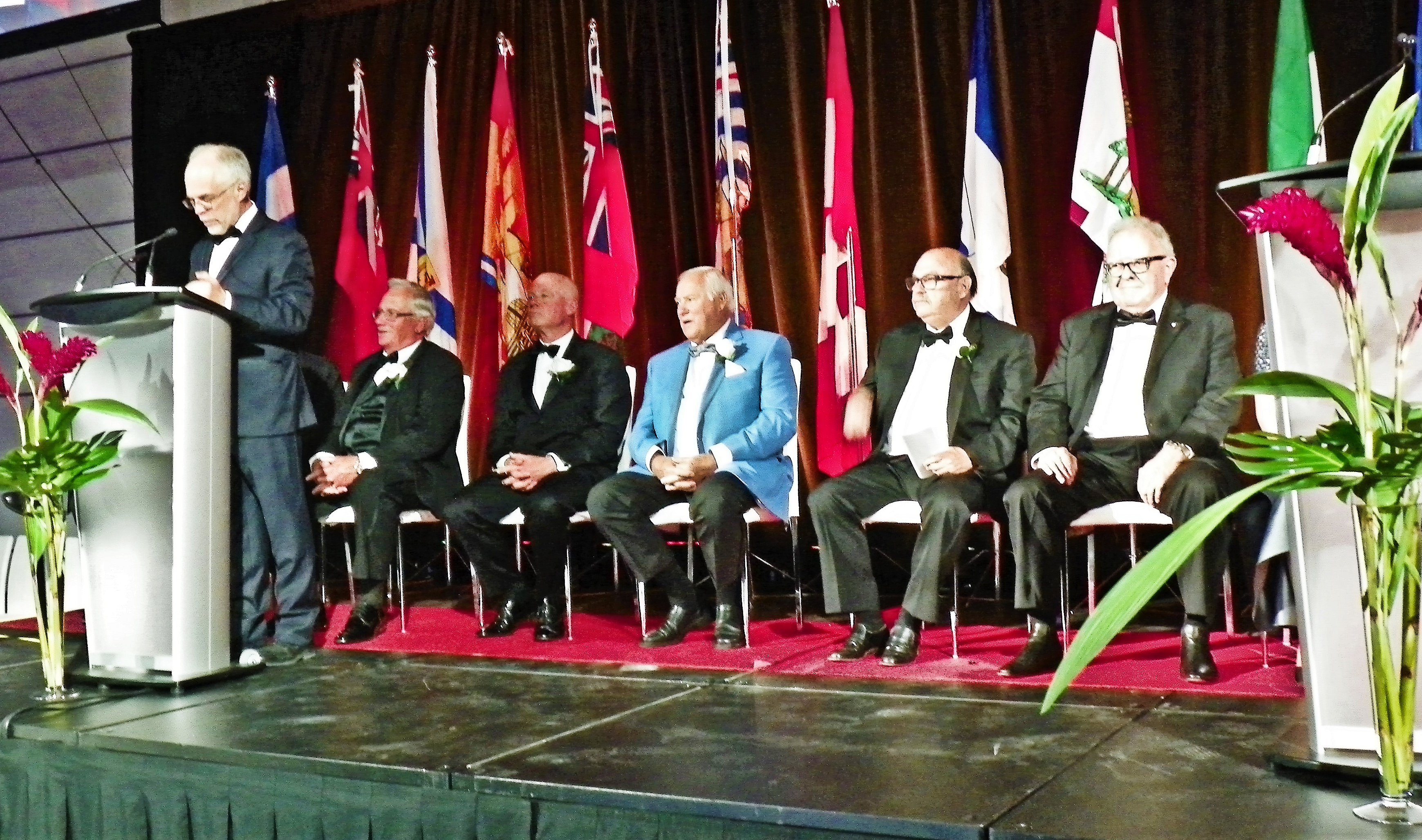 By John Chalmers
On May 16 at Bombardier's Laurent Beaudoin Completion Centre at the Montréal–Pierre Elliott Trudeau International Airport, Canada's Aviation Hall of Fame installed five new members at the Hall's 46th annual induction ceremonies recognizing outstanding achievement in civil and military aviation. A total of 237 individuals who have been inducted so far.
Barry Lapointe built KF Aerospace, headquartered in Kelowna, into a company with 1,000 employees at four locations in Canada providing maintenance, repair and overhaul service, as well as training Canadian military pilots. 
Greg McDougall built Harbour Air Services into the world's largest seaplane airline, operating on the west coast of Canada with 50 aircraft in scheduled and charter service. The company's aircraft carry passengers daily between Vancouver and Victoria, as well as to Seattle.
John Holding was honoured for his long service as an aeronautical engineer. Trained in England, he came to Canada in 1979, starting with Canadair, and retired as a vice president of Bombardier after being involved with development of several types of aircraft built by the company.
The late David Fairbanks, a three-time recipient of the Distinquished Flying Cross, served with the RCAF during the Second World War, flying with the Royal Air Force. He attained the rank of squadron leader as commander of 274 RAF Squadron and had a total of 15 victories to his credit as a Tempest pilot. Post-war he worked for de Havilland Canada as a test pilot and promoter of the company's short takeoff and landing aircraft. 
The late William Paris also served as an RCAF combat pilot during the Second World War, flying Spitfires in the North African Campaign. Discharged as a flight lieutenant, post-war he served as a flying instructor, then spent three decades as a manager and executive of the Royal Canadian Flying Clubs Association, for which he was installed as a member of the Order of Canada.