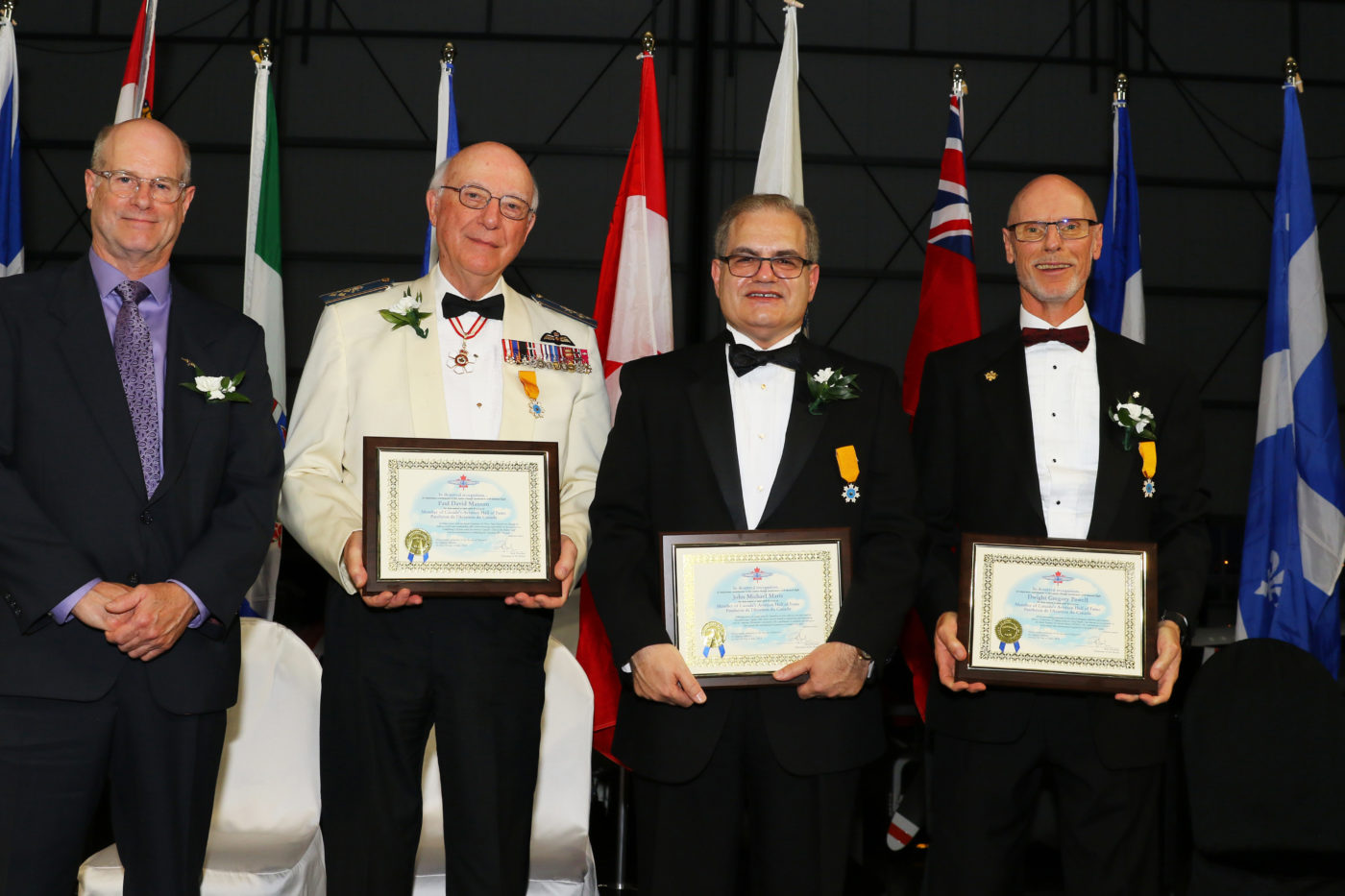 By John Chalmers,
Historian, Canada's Aviation Hall of Fame
Four new Members were inducted into Canada's Aviation Hall of Fame at the annual dinner and ceremonies, held this year at the Sunwest Aviation hangar at the Calgary International Airport on June 7. Their induction brings to 232 the total number of individuals who have been so honoured for their contributions to Canadian Aviation. 
Bush pilot, airline builder and entrepreneur, the late John Bogie, was represented by his son, Iain. When in failing health earlier this year, John was installed as a Member of the Hall at a special ceremony held for family and friends in Ottawa on February 10. John died on April 5, 2018.
Pilot and military leader, General Paul Manson, began his career with the RCAF and retired as Chief of the Defence Staff. In active retirement, he was instrumental in raising funds for building the new Canadian War Museum in Ottawa.
Test pilot Dr. John Maris began his career as a pilot with the RCAF. He left the air force holding the rank of major, to devote full time his company, Marinvent Corporation, which he serves as president and CEO.
Dr. Greg Powell, internationally recognized for his work as an emergency medicine physician, was a co-founder of STARS – the Shock Trauma Air Rescue Service. Originally based in Calgary, STARS now operates 11 helicopters from six bases in the three prairie provinces.
Close to 500 people were present for the gala event, which included some uniquely Calgarian flavour. The four honorees were each presented with a cowboy hat in a White Hat Ceremony that included the Calgary Stampede Queen and three Stampede Princesses. Pre-dinner music was provided by the Calgary Fiddlers and the program for the evening began with a rousing start with the pipes and drums of the 16-member Calgary Police Service Pipe Band.
Astronaut Dr. Dave Williams served as guest presenter and featured speaker. Special recognition was given to Max Ward, founder of Wardair Airlines, and to Bud White, who set a Canadian high altitude record with a CF-104 Starfighter. They are the two living original members of the Hall, inducted in 1974.
As Wetaskiwin, Alberta, is home to Canada's Aviation Hall of Fame, for several years it has been the practice of the city council of Wetaskiwin to proclaim inductees to the Hall as Honorary Citizens. In an informal presentation during the induction celebrations, new Members of the Hall are presented with a commemorative plaque and a certificate of proclamation.