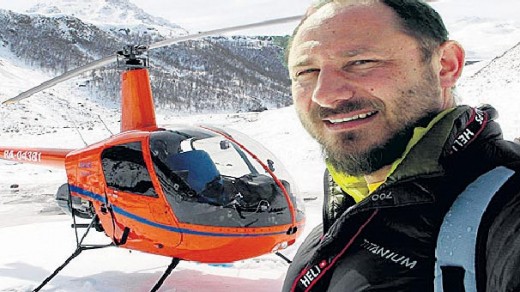 A Russian helicopter pilot stranded on an ice floe in Davis Strait was down to his last flare when he spotted the Canadian Coast Guard ship Pierre Radisson in the fading light and building fog. It may have been the luckiest shot of his life.
Crew members aboard the ship spotted the flare just as its helicopter was about land after what pilot Michel Dube assumed had been an unsuccessful search.
"We were almost at the end of our flight, because the fog was coming back and darkness was coming back," Dubé told the CBC. "So I made the flight deck ready for us, and the ship called us and he said, "We saw a flare.'"
Ananov, who was trying to become the first person to fly solo around the world in a helicopter, went down in the frigid strait between Nunavut and Greenland. Ananov said a drive belt on the Robinson R22 broke, forcing him to autorotate to the water below. He got out of the helicopter as it sunk and was able to grab his survival suit and a few supplies and get into a life raft.
He made it to an ice floe and was stranded for 30 hours, sparking the interest of a trio of polar bears and was effusive in his praise for the Canadian search and rescue system.
"Thank you very much. Thank you very much for those who pay for those guys, those who work with the equipment and machines," he said. "Everybody here did a great job."
Ananov was to travel to Ottawa on Wednesday to visit the Russian embassy to replace his passport, which is at the bottom of Davis Strait.